Ince: I took a chance by signing for Blackpool, and it paid off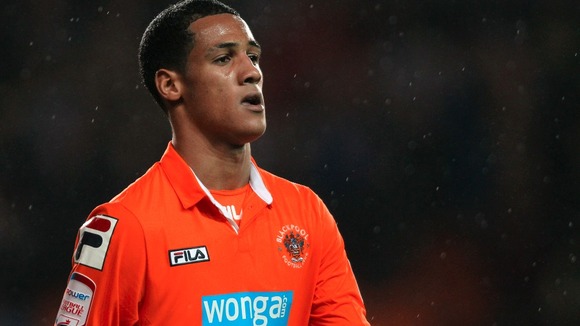 Thomas Ince took a gamble just under two years ago - one that few other players would have been brave enough to make.
A graduate of Liverpool's fabled academy, the winger decided to take the path less trodden and swap Anfield for Bloomfield Road.
Still a teenager, the move was borne out of "real world" experience and the desire to improve playing regular first-team football.
A spell in the third tier with Notts County was the catalyst.
Playing in front of relatively big crowds alongside wily pros like Neal Bishop and Lee Hughes, Ince got a taste for the cut and thrust of competitive football.
"It is easy to say you get a silver spoon in your mouth at an academy," he said.
"You play on a Tuesday night, win 3-0 and just get a pat on the back and 'report for training tomorrow'. You don't feel anything."
So at 19, following discussions with his dad, he plumped for a move to Blackpool, relegated back to the Championship just months earlier.
The man that brought him in, Ian Holloway, has since moved on and been replaced by someone closer to home, the winger's father and former England midfielder Paul.
The self-styled guv'nor enjoyed a playing career that took him to Manchester United, Inter Milan and Liverpool, amongst others, before moving into coaching.
Now he is manager at Blackpool, joining forces with Tom just like they did during that influential spell at Notts County.
"I have the double advantage - I have a manager and my dad at home," he said.
"As a kid he used to make me cry. If I had a bad game he would be screaming and spitting in my face and worse than that.
"That is only going to make me stronger. You are going to have to face critics on the way.
"He will sit down and analyse every part of my game. Dinner would be on the table and it would be pause playing the video of the game.
"I would not want it any other way. Because to be in the footsteps of my dad and have half the career he has had it takes a lot and luckily I have got that guidance."
The winger has become one of the most sought-after prospects outside the Premier League and is currently in Israel with the England Under-21s for the European Championships.
Forced to watch the first game from the stands due to suspension, Ince will likely be called into the team to face Norway today after seeing his team-mates well beaten by Italy in the opener.
"It killed me watching the first game," he said. "When you see the nice pitch and the stadium and there's me in the stand it is not nice.
"I have had to serve my suspension and it has been a long couple of weeks.
"But I have had a good blow this week and my legs feel very strong so I hope to be in contention for Norway."