Republic of Ireland captain Robbie Keane knows what to do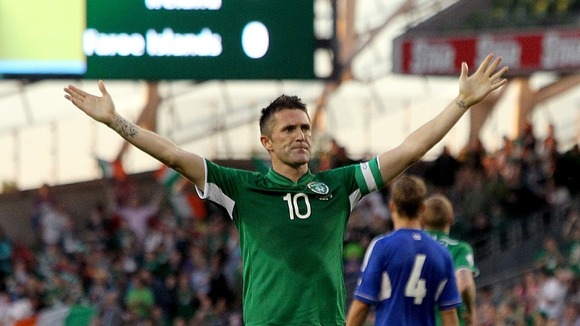 Robbie Keane is already looking towards September's crucial World Cup qualifiers as he targets a trip to another major tournament.
The 32-year-old Republic of Ireland skipper helped to maintain his country's bid for a ticket to Brazil next summer with a hat-trick in last night's Group C victory over the Faroe Islands at the Aviva Stadium.
That, coupled with Austria's win over Sweden, left the pair locked together on 11 points behind leaders Germany, although the Swedes will join them on Tuesday if they beat the Faroes in Solna.
It has always looked like a three-way battle for second place, and that means Sweden's trip to Dublin in September and Ireland's visit to Austria four days later are likely to have a decisive say in the outcome.
Keane said: "All we have to do now is just concentrate on ourselves and not worry too much about Austria or Sweden.
"We know what we have to do: we have to play those two in September, so those two games are very, very crucial and will probably make or break us.
"These games give you confidence. It's always good coming into the next qualifier when you have just come off a good win and after getting three points.
"We will certainly look forward to those two games. They are two games that we have to win to stay in contention.
"We have got a good chance, there's no question. We have got Sweden at home and Austria away, and we are quite capable of going to Austria and getting three points."
Last night's win extended the Republic's impressive end-of-season form after a draw in England and last Sunday's demolition of Georgia.
They have now played eight times since they were humbled 6-1 by the Germans on their own pitch in October last year and lost only once, and that is a source of some encouragement for their captain.
Keane said: "I don't think anyone had any doubt about it, to be totally honest with you. People forget, we played against probably one of the top three teams in the world in Germany.
"The manner in which we were beaten, it wasn't good because of the way we set ourselves out and the pride we have, and it wasn't good enough.
"But the good thing about football is there's always another game and it's about bouncing back and not being a baby sitting in a corner and crying about it.
"It's about standing up for yourself and standing up for the team, and that's what all the players have done."
Keane's evening could hardly have gone any better as he marked his record-breaking 126th appearance for Ireland with a hat-trick which demonstrated his enduring ability to turn up in the right place at the right time.
He struck after five, 55 and 81 minutes to take his tally for the Republic to 59 goals, 10 more than Sir Bobby Charlton managed for England and 38 ahead of the Republic's second most prolific marksman, Niall Quinn.
Keane has his critics, who suggest he does little else for the team but score, although his importance is illustrated graphically by the statistics.
Fellow strikers Shane Long, Jon Walters, Simon Cox and Conor Sammon have made 87 appearances between them and scored a total of 17 goals.
However, Keane insisted that the result, rather than any personal milestone, was the main focus.
He said: "It was a great occasion, certainly for me and the family, so I am obviously delighted, but the most important thing was about the team and getting the three points, and we did that."
Keane and his team-mates were due to fly out of Dublin this afternoon bound for New York, where they will play Spain in a friendly on Tuesday.
The two sides last met in Poland last summer, when the eventual Euro 2012 champions cruised to a 4-0 victory, and Keane knows it will be a tough assignment.
He said with a smile: "You are playing against a team that you don't really want to face after a qualifying game, especially after the way they played against us in the Euros.
"It's a good test for you, it's a good opportunity for other lads who haven't been playing because no matter what you say, it's a tough couple of weeks for players who are not involved.
"It's important for players to get games and to feel part of the squad and feel involved, so I'm sure it will be a good opportunity for them."