Stuart Pearce takes England Under-21 failure 'on the chin'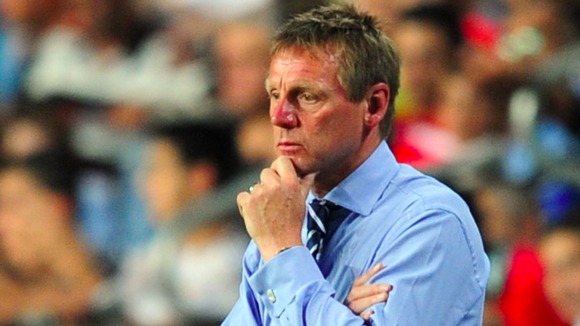 England Under-21s manager Stuart Pearce is disappointed to have been knocked out of the European Championship - but not surprised, given he was without several of his best players.
The likes of Alex Oxlade-Chamberlain, Phil Jones and Danny Welbeck linked up with Roy Hodgson's senior team for friendly games against Republic of Ireland and Brazil rather than travel to Israel.
Such absentees, coupled with injuries, suspension and a lack of appetite, left the Under-21s without 17 eligible players for their opening Group A match against Italy, according to Pearce.
They deservedly lost that match 1-0 and then were embarrassed 3-1 by Norway, condemning the Young Lions to an embarrassing group-stage exit for the second successive tournament.
"It's football. I've been involved in football for 25 years," Pearce said.
"Humiliation isn't a word I'd use. Big disappointment, that's for sure.
"But I'm very proud to do this job and proud to represent my country, as my players are, so they'll be hurting.
"It's the nature of football. I thought we started very well and passed well without hurting Norway and that got us into the mentality that we just needed to pass the ball without switching on to the defensive side.
"Credit to Norway - they took their chance very well, albeit some poor defending from us, and good luck to them.
"We've got out of the tournament so far what we deserve at the moment, and that's not much.
"We have to make sure as a group that we do it right and try to beat Israel. Any team that's representing England has to try and win every game."
Efforts from Fredrik Semb Berge, Jo Inge Berget and Magnus Eikrem put Norway three goals up at Ha Moshava, before Craig Dawson got a consolation from the penalty spot.
The Scandinavians' squad of 23 includes 15 players with senior experience and tonight they won comfortably - despite starting their best four players on the bench after they played for the full team yesterday.
Asked if he thought England would have fared better if they had more senior players in Israel, Pearce said: "Your words, not mine.
"We've just been beaten my Norway. I have to take that on the chin.
"Hopefully people outside of me will pick that up and run with it.
"The team that takes their best players will win the tournament. The teams that don't won't - they'll go home early. That's the nature of football.
"I probably can't try any harder than I actually am (to persuade more big players to come).
"Wake-up calls should come in the two years in between - not when you go to tournaments."
Tonight's display led Manchester United defender Rio Ferdinand to take to Twitter and debate the coaching strategies that are in place at under-age levels.
Such analysis will undoubtedly follow in the days, weeks and months to come, but whether Pearce is in charge of the Under-21s going forward remains to be seen.
The former international left-back's contract expires at the end of this month and he has not been given any assurances over his future.
"(My job situation is the) same as it was. Results don't change my mentality at all," Pearce said.
"I will sit down with FA when get back from this tournament and the plan was to discuss it. I enjoy the job."
Pearce now faces the unenviable task of getting his players up for a dead game against hosts Israel, while Norway are closing in on a place in the semi-finals after Marcus Pedersen celebrated his 23rd birthday in style.
"This was great," said the striker, who set up Eikrem for the third goal. "Everyone worked together and we were smart.
"To beat England 3-1 is quite big. I could not have got any better birthday present than that.
"This is one of the sweetest victories I have had and it's pretty good atmosphere in the dressing room."