Stuart Pearce keen to carry on as England Under-21 boss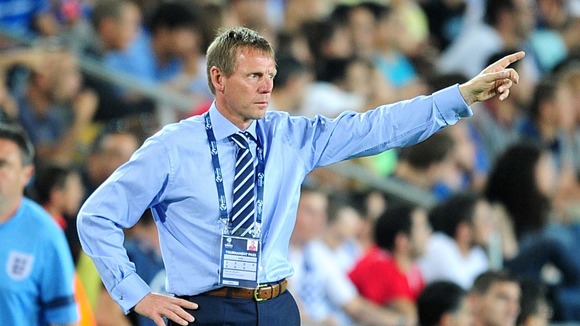 Stuart Pearce wants to stay on as England Under-21s manager despite feeling let down by his under-performing players at the European Championship.
Having arrived on a run of nine successive wins without conceding, the tournament has been nothing short of an unmitigated disaster for the Young Lions.
Italy, Norway and Israel all triumphed against an under-cooked, under-performing England side, who leave Israel with their worst ever record at an Under-21 tournament.
It leaves Pearce's position looking more precarious than ever, but the former international full-back still hopes his contract is extended past the end of this month.
"It was a real poor performance," Pearce said after yesterday's 1-0 defeat to Israel.
"In regard to my future, my mentality has not changed in 10 days, when I spoke to you (the press) and gave you the heads up on what my mentality would be.
"Results in this tournament have not effected that one iota.
"I've no idea [whether this will impact my chances]. When you look around Europe over six years and see that our team is the only team that has been here four times running.
"We've lost very few games, bar this tournament, in tournament football over the years and played some very good football over that time, so there's a middle ground somewhere.
"We've not performed in this tournament that's for sure, there might be a multitude of reasons for that. I have to take it on the chin and obviously the players do as well."
Under-21s right-back Nathaniel Clyne took to Twitter immediately after the match, posting: "I'm a broken man get me home".
The Southampton man will get his wish when England fly home this morning, although he might want to keep his distance from Pearce, who feels let down by his players.
"I think basically if you don't turn up and work hard enough in any given tournament, you won't get any success and that was typical of today and probably the two games prior to it," he said.
"I honestly don't believe I should be here answering questions on behalf of them.
"They should be here answering questions on why their performances were so poor, to be honest with you.
"I don't think it's my responsibility at this stage to answer for a performance as bad as that.
"This is the business end of the tournament and we got what we deserved. I don't think we deserved to win a game. Credit to the Israelis, they deserved to beat us."