Player profile: Andre Schurrle, forward, Bayer Leverkusen
by Will Unwin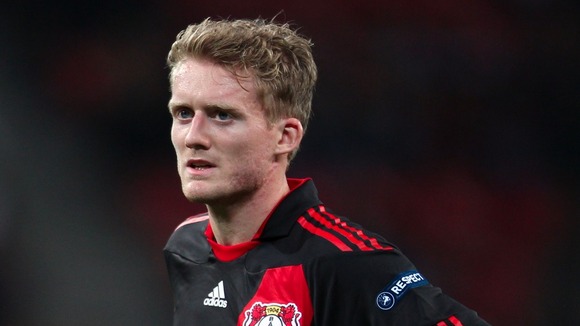 Name: Andre Schurrle
Position: Forward/Winger
Born: 1990
Club: Bayer Leverkusen
Country: Germany
It's been on the cards for a while. but Andre Schurrle is set to become the first signing of the new 'Happy One' era at Chelsea.
The Germany winger is still just 22, and has been a target for the Stamford Bridge outfit for almost a year now, so they will be pleased to have got their man on board.
Schurrle was in the same youth team as Lewis Holtby at Mainz in Germany, and their careers have taken similar paths ever since, with his friend also in London at Spurs after a January move.
Much of the player's early success could be accredited to his athleticism, as his natural sporting instincts took him into the Mainz first-team when he was 19.
His pace down the left saw his side become a real threat in the Bundesliga, aided by other talented youngsters including Holtby, with the unfancied outfit eventually finishing fifth in 2010/11 season, and qualifying for Europe.
Unsurprisingly, Mainz were unable to resist offers from the bigger boys in the Bundesliga, with Schurrle being snapped up by Leverkusen.
This put the winger on a bigger stage, as he got to show off his ability in the Champions League, including two group stage clashes with future employers Chelsea, which obviously impressed the Stamford Bridge hierachy, as they have kept tabs on him ever since.
His pace can give full-backs nightmares, and his ability centrally, coupled with the fact that he is a very competent finisher with a record of one goal in every three games at club level.
Schurrle's consistency has also seen him become a fixture in Joachim Low's youthful revolution with the German national side, which saw him travel to Euro 2012.
At Chelsea, one can't be sure where Schurrle will fit into the side, considering he faces competition form Juan Mata, Oscar, Eden Hazard, Kevin De Bruyne and Victor Moses for a starting berth, but Jose Mourinho knows that whenever selected he will be a valuable asset.
The 22-year-old winger is a counter-attacking specialist, which could see him fit perfectly into any chosen forward foursome, with Schurrle operating on the left, Mata in the centre, and Hazard on the right, behind a focal striker.
His highly professional attitude and skill have got Schurrle a long way already, so he won't be the sort of man to give up if he isn't in the first XI straight away, and his positivity could be what is needed in a dressing room stuck in its egotistical ways.
Schurrle is incredibly quick, cheeky and great at dribbling.
– Germany coach Joachim Low