Manchester City reserve team coach Patrick Vieira questions Rooney rule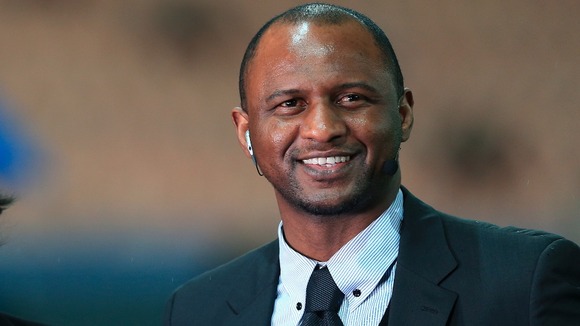 Patrick Vieira has claimed introducing the 'Rooney rule' into football is not the answer to combating racist attitudes in the game.
Vieira, the former Arsenal and France midfielder, was last month appointed the head of the elite development squad at Manchester City but he does not believe black coaches should be given extra help.
The Rooney rule, which has been in operation in American football's NFL, obliges clubs to include at least one ethic minority candidate on shortlists for vacancies for coaching staff.
The Professional Footballers' Association has called for the rule to be introduced in England to address the low number of black coaches in the game.
But Vieira insists that is not the answer.
In a documentary on racism on football being screened by CNN tomorrow, Vieira says: "I think we need to be careful not to make all these mistakes because I know that in the US you have a percentage of black people who should be near, who are near the community, but I don't know if this is the right answer to fight against racism.
"I believe that we should get the right people for the right job, and it doesn't matter where you come from, it doesn't matter your religion, and it doesn't matter what colour you are.
"So I may be too naive still, but I believe this is not the right answer.
"I hope that in people's minds, that if a black person wants to be any part of an organisation, that the door is still open and he is being judged on the quality of the job he can deliver and not the colour of his skin."
:: CNN's documentary on racism in football is being screened at 9am BST tomorrow.