Kinnear takes director of football role at Newcastle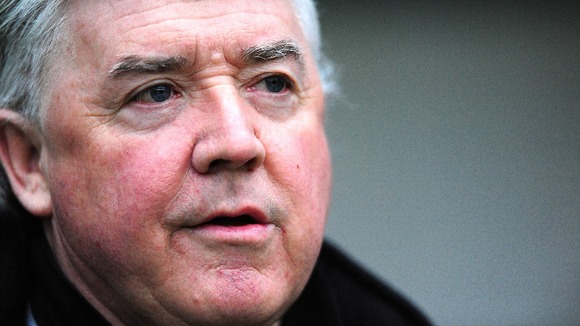 Joe Kinnear has confirmed his return to Newcastle as director of football.
The former Magpies manager, 66, left the club in 2009 after suffering a heart attack but has now returned to work alongside manager Alan Pardew.
Kinnear told Sky Sports News: "It's an interesting role for myself and I don't think I could be at a better club to do it."
Kinnear confirmed that he met with club owner Mike Ashley earlier today to sign a contract with the St James' Park outfit, with the agreement reportedly lasting three years.
"It's absolutely done," he said. "I signed it with Mike today and that's taken care of.
"I intend to meet Alan either tomorrow or within the coming week to discuss the future and go through the team itself.
"We will discuss where it's glaringly clear we need to improve and that will be my job, to go and find those players."
Kinnear played down any lingering concerns over his health and is relishing the chance to return to the Barclays Premier League.
The former Wimbledon and Nottingham Forest boss was taken ill before a game against West Brom in February 2009 and, with United favourite Alan Shearer taking charge for the remainder of the season, Kinnear left the club at the end of his contract in May of that year.
"I'm as fit as a fiddle now," Kinnear said. "I'm absolutely delighted with the situation.
"I've been working out in the gym, I go for long walks, I've lost lot of weight - I'm in the best physical shape I've ever been.
"I've been waiting for the opportunity to come back. I have turned down managerial jobs in the lower leagues, because I felt I'd gone past that and I wanted to get my teeth into something in the Premier League.
"I've been very fortunate in my life as a manager, I've been manager of the year three times and I've had a great football career so I think I'm ideal for this situation."
Kinnear insists he is returning to the club to help manager Pardew achieve success, not to undermine the position of a man who signed an eight-year contract extension last September.
He said: "Alan's aware of the situation and I'm hoping to meet Alan sometime tomorrow to go through the team itself and where it's glaringly clear we need to be improve.
"That will be my job, to find and buy these players. I'm not picking the team, that's what the manager gets paid for. I'm there solely to see he gets the best possible team on the pitch.
"The tactics are down to him, if he wants my ideas, he can ask for them.
"I've already had two days with Graham (Carr, chief scout) and I intend to see him on Thursday morning.
"We've spent two whole days talking about the French players, how good they are, the disappointment in a lot of them being injured - and looking at other players he's seen and recommended. He's done a wonderful job.
"Between the three of us we will sit down and iron it out, if those two decide a player is not any good I'll listen - it's not a case of 'like it or lump it'."
Kinnear's spell as manager was marked by a strained relationship with the media, starting with an expletive-laden press conference shortly after his arrival.
He was also targeted as one of what United fans referred to as the 'Cockney Mafia' in charge of the club, along with Ashley, fellow director Derek Llambias and Dennis Wise in the unconventional role of 'executive director (football)'.
Kinnear said today: "I love being back up in Newcastle, irrespective of the situation I had with the media.
"I'm one of those fellas that has to speak my mind, I'm not one that holds back, if I've got something to say, I'll say it.
"The disappointing thing, that I didn't realise when I was up there but now I'm aware of it, is that Geordies are Geordies.
"They want people from that area to work for that club. But you've got numerous international managers from all parts of the world.
"Would Newcastle object to somebody coming in who was Spanish, or something like that? I don't know.
"Because I wasn't a Geordie, for some reason that went against me. Because my record speaks for itself, it's there for everybody to see.
"But I got over that, I maybe reacted a little bit over the top but half of the stuff that was written was very disappointing.
"It's all water under a bridge, it's all finished now."
Newcastle were relegated in the season in which Kinnear suffered his health problems and he was keen to absolve himself from blame.
He said: "When I took over we were third from bottom, we were lying 12th when I had my heart attack and we were flying - you could get a million to one on that we were staying up.
"I had the heart attack, I don't really like talking about it, and from there we got relegated. I think the people in and around that club were trying to implicate me in the fact we got relegated when actually it was a load of crap.
"If I'd still been there that would never happened - just for the record, I've never been manager at a club that's got relegated."