Player profile: Julian Draxler, midfielder, Schalke
by Will Unwin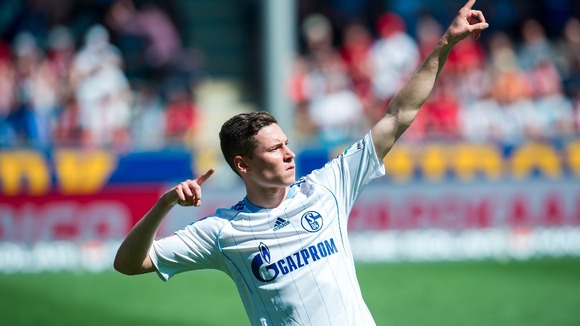 Name: Julian Draxler
Position: Centre midfield
Born: 1993
Club: Schalke
Country: Germany
The Bundesliga is dominated by two teams, but one man making his mark away from Dortmund and Munich is Schalke playmaker Julian Draxler.
Considering his tender years, the 19-year-old midfielder has made a big impression in Germany, and is being monitored by some of Europe's biggest clubs.
He was earmarked as a talent from an early age, and became the fourth youngest player in Bundesliga history when he made his debut back in January 2011.
Draxler went on to bank 21 first-team appearances in the rest of that campaign, including time on the pitch in the latter stages of the Champions League, and a winner in the German Cup final.
From this point, Draxler has been turning heads across the continent thanks to his role in the centre of midfield for the Gelschenkirchen outfit, and already has 75 club games under his belt.
Adept in forward positions, the teenager has the composure and temperament to operate wherever he is placed in the final third, with his shooting from distance making him a constant threat.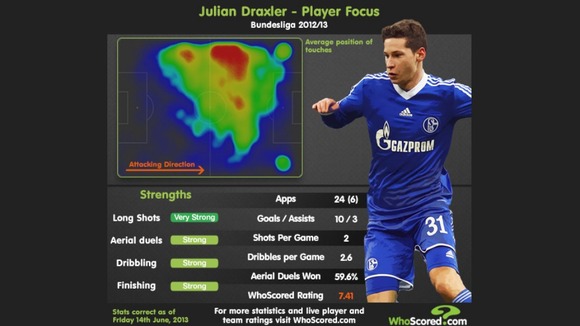 His rise to the top was rapid, and including being called up for Germany's preliminary squad for Euro 2012, but failed to make the final 23, and instead returned home to complete his education.
But he has managed to earn six caps for Joachim Low's side, which is a pretty good effort for a man who is yet to turn 20.
The departure of Lewis Holtby in January to Spurs gave Draxler more freedom in the Schalke team, which also came with additional pressure, something he thrived on, as most of the side's attacking threat when through their most talented asset, as Jens Keller's men picked up the Bundesliga's final Champions League spot.
As it it becomes increasingly obvious that Germany's top-flight will be a two horse race for years to come, Draxler will need to move abroad to achieve honours.
He has in the past been linked with a move to Borussia Dortmund, but his €43million release clause is too rich for the Champions League runners-up.
England looks a likely destination for the playmaker, as Manchester United see him as someone who can replace some of their underperforming attacking midfielders.
Which boy doesn't dream about playing for Real, Barca, Chelsea or Manchester United? There is nothing to be ashamed of.
– Schalke midfielder Julian Draxler