Newcastle to confirm Kinnear appointment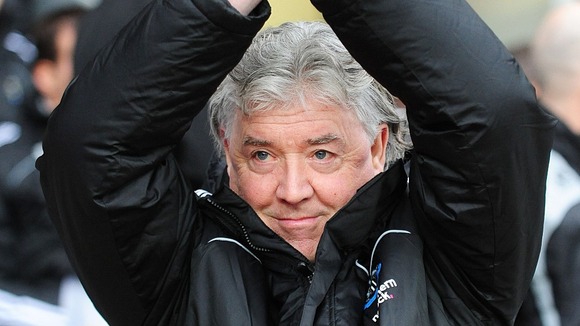 Joe Kinnear will today be confirmed as Newcastle's new director of football as he prepares to head into talks with manager Alan Pardew.
Press Association Sport understands the club will belatedly announce Kinnear's appointment, which he himself made public on Sunday evening, with the news of his impending return to St James' Park having received a less than favourable welcome from the club's fans.
The 66-year-old, who claimed last night that managing director Derek Llambias had "resigned" from his position, is also due to meet Pardew to discuss the way forward after insisting the 51-year-old had been "delighted" by his recruitment.
Kinnear is adamant he is no threat to Pardew with many onlookers having forecast the manager's days on Tyneside could be numbered with one of his predecessors looking over his shoulder.
He was, of course, in charge of the club for five months during the 2008-09 season, at the end of which they were ignominiously relegated from the Barclays Premier League.
He took charge for 26 matches in total before succumbing to the heart problems which forced his departure.
In total, he won five, drew 11 and lost 10, once of which was the Magpies' first derby defeat at Sunderland for 28 years.
However, the Irishman refuses to accept any culpability for what followed and has been bullish to say the least in defending himself against the tide of criticism which has come his way since news of his appointment emerged.
He stirred the waters further last night in an interview with talkSPORT in which he hit out at the club's supporters.
Asked what his message to the dissenters was, he said: "To all the fans who don't agree with this decision, shall I bring [Derek] Llambias back in? What do you want? What do they want?
"I heard a silly comment of, 'What can I attract?'. I can open the door to any manager in the world - anyone. That's the difference.
"I've spent my whole life talking to Alex Ferguson, week in, week out. What would you do?
"I can pick the phone up at any time of the day and speak to Arsene Wenger, any manager in the league. In all the divisions.
"I don't know what angle they've got, if they want to sit down and argue with me... Some are talking out of their backsides, a load of tosh.
"I'm not accepting it, as simple as that. I have certainly got more intelligence than them, that's a fact."
Just how the dynamics will work within St James' now remains to be seen with Kinnear representing a new tier of management in which Pardew runs the team and chief scout Graham Carr heads up recruitment with the newcomer overseeing operations.
Llambias, who along with club secretary Lee Charnley has conducted transfer negotiations in recent years, is expected to concentrate on the financial aspects of the business.