Pardew quiet over Joe Kinnear appointment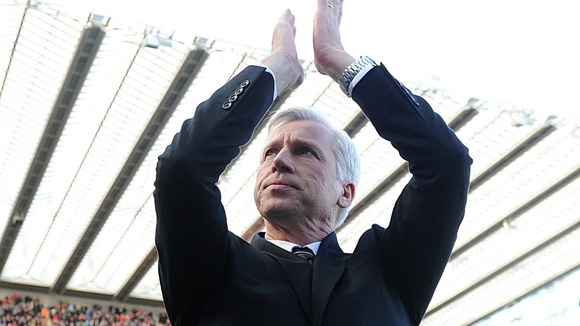 Newcastle boss Alan Pardew was keeping his own counsel after the club finally confirmed Joe Kinnear's arrival as director of football.
Despite the 66-year-old claiming Pardew was "delighted" by his appointment, there was no ringing endorsement - or indeed, any endorsement at all - from him when the Irishman's return to the club was formalised by an official statement.
However, he and chief scout Graham Carr will now find themselves working under Kinnear, who will report directly to the club's board and owner Mike Ashley, the man whose decision to appoint him has sparked a fresh wave of anger on Tyneside.
The two men had not met by the time the official announcement was made shortly before midday.
Managing director Derek Llambias said: "The board is pleased to welcome Joe back to the club.
"Joe has many years of experience working within the game and this experience will be of great benefit to the club in achieving our objectives over the coming seasons."
The confirmation arrived two days after Kinnear himself announced his impending return to the club he managed for a little more than six months during the ill-fated 2008-09 season.
He has since conducted a series of outspoken, and at times bizarre, interviews, one of which included a claim that Pardew had nothing to fear from him and that he had been recruited simply to provide the manager with the best possible team.
However, just exactly how that relationship, or Kinnear's with the highly-rated Carr, will work remains to be seen, with many onlookers predicting that Pardew's chances of seeing out very much more of the eight-year contract he signed in September last year have decreased markedly in the last 48 hours.
Ashley, who is understood to have maintained his relationship with the former Wimbledon manager since his departure from the club in April 2009, opted for a restructuring exercise after last season's fight against relegation.
The Magpies eventually finished in 16th place in the Barclays Premier League table 12 months after forcing their way into the top five and back into Europe.
Pardew, who was named Manager of the Year for his exploits during 2011-12, survived an end-of-season review despite fevered speculation that he would be shown the door and it appeared that he and Carr would be given the opportunity to rebuild the squad this summer.
However, Kinnear's arrival will cause a significant change in the dynamic at St James' Park.
Pardew may have maintained a diplomatic silence to date, but the club's fans, many of whom were calling for the manager's head just a few weeks ago, have been moved to fury once again by Ashley's latest controversial decision.
The Chronicle, the city's evening newspaper, marked Kinnear's arrival with the front-page headline "What a joke" and a series of bewildered responses from supporters.
Ashley's previous includes appointing Dennis Wise to a similar role, renaming St James' Park the Sports Direct Arena and striking a deal with pay-day lender Wonga as the club's new main sponsor.
Kinnear's spell on Tyneside is his only major job in mainstream football in the last nine years and despite his somewhat rose-tinted recollections, he won only five of the 26 games the club contested under his charge before ill-health forced his departure.
He at times appears to enjoy a tenuous relationship with the facts - he claims to have signed goalkeeper Tim Krul, who in fact made his senior debut for the club in November 2006 - and suggested that Llambias had resigned - he has not and remains managing director.
In addition, he will have done little to endear himself to the current playing staff having last night mispronounced many of their names during a radio interview, most spectacularly referring to much-coveted France international Yohan Cabaye and "Yohan Kebab".
He had an uneasy relationship with the media during his first spell on Tyneside and at one point embarked upon an expletive-laden rant which did neither he nor the club any favours.
Ashley is known to appreciate straight-talking and his new director of football will certainly pull no punches, but exactly what else he will offer is a matter of some debate.
Asked if Kinnear's arrival had undermined Pardew, former Newcastle defender and current BBC Radio Newcastle pundit John Anderson said: "Most definitely. With this appointment, we will find out more about Alan Pardew.
"There's probably not a great deal he can do about it. Will he come out and say it was done behind his back, or will he toe the party line and say he has been involved in it and agreed to it? I just don't know.
"Everybody as praised Graham Carr for what he has done and rightly so. Has Graham Carr now got to run every player past Joe Kinnear? Has Joe Kinnear now got the final say on every player who comes in?"