Whelan to fly FA Cup trophy to Barbados to fulfil promise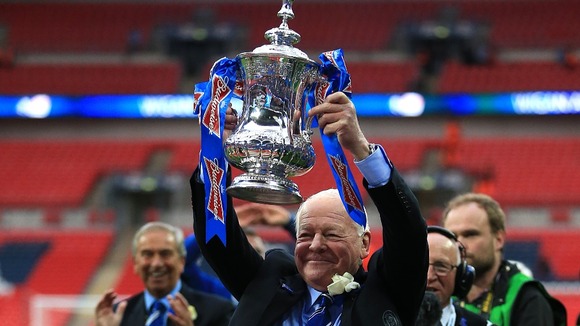 Wigan chairman Dave Whelan has promised to take the FA Cup to Barbados to fulfil a promise he made thinking the dream he experienced at Wembley in May would never come true.
Whelan has a villa on the Caribbean island, where he is due to jet off for his summer holidays following Owen Coyle's unveiling as Roberto Martinez successor as manager today.
The 76-year-old is a popular figure and in one of his more bullish moods, said should Wigan ever win the world's oldest domestic cup competition, he would bring it along to show the locals.
And though it will not be accompanying him on his current trip, Whelan has vowed the trophy won thanks to Ben Watson's last-minute goal against Manchester City will eventually make the journey.
"Since we won the FA Cup, everybody on this planet knows Wigan," he said.
"I took it to round six schools in Jersey recently. I had never seen so much excitement from those youngsters.
"I was amazed at the look on their faces when they could get near the FA Cup. It shocked me how much love and affection there is for the trophy.
"I have promised Barbados I will take it there. I will do that in November and let every youngster on the island look at it.
"We are so proud at what we have done."
Whelan was asked numerous times before his side's Wembley appearance whether he would prefer to overturn the odds against City or preserve their top flight status.
Although he does not exactly pull back from the belief that a Premier League future was more significant, it is clear how much pleasure is being derived from one of the greatest moments in Wigan's history.
"The number one priority was to stay in the Premier League," he said.
"We must all accept it is the best league in the world.
"But whilst I was so sad at going down, I was so excited at going down to Wembley.
"I was still drinking at 5am on the Sunday morning. I wasn't feeling all that good at the time.
"But just to look at that trophy is fantastic."