Player profile: Thiago Alcantara, midfielder, Barcelona
by Will Unwin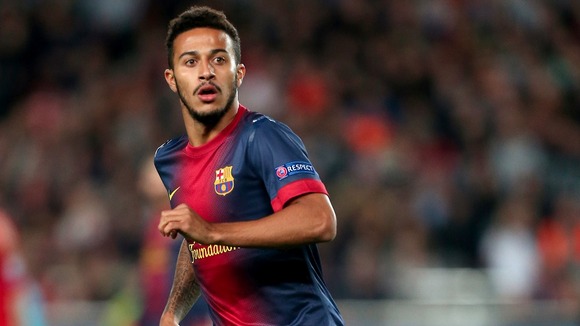 The Nou Camp midfield is the most envied in the world, as it includes Xavi, Andres Iniesta and Sergio Busquets, with the likes of Cesc Fabregas and Alex Song playing bit parts.
Another man who can't get a game is Spain Under-21 captain Thiago Alcantara, who could seek a move away from Catalona in order to give his talents the time on the pitch they deserve.
His father, Mazinho, was a World Cup winner with Brazil, so he has the pedigree to reach the top, and has excelled going through La Masia.
Having made his first team debut three years ago, Thiago feels disappointed that he has made less than 70 appearances for the Azulgrana.
Obviously, the competition for spots in the starting XI is unlike any other team in the world, but footballers want to play, and the international believes it could be time to try become a regular somewhere else.
Thiago speaks English, meaning Manchester United's interest in him could see him move to the Premier League in the summer, with David Moyes lining up a £15million bid for him, as the Scottish manager hopes to add quality to the centre of the park.
Being kept out of a team by Xavi and Iniesta is nothing to be embarrassed about, and when Thiago does play he shows the calm assurance in the midfield in conjunction with the stereotypical technique of a man who has been trained up by Barcelona.
Built in a similar mould to the current Barcelona midfield incumbents, Thiago would almost certainly take over from them when the time comes for them to depart, but impatience might get the better of the three-time capped Spaniard.
He is frightfully skilful, and can use his ingenuity to get out of the tight spaces with the ball still at his talented feet, and his creativity can create an abundance of chances for forwards.
Thiago's ability to link up play, and offer neat interchanges make him perfect for a side who play the tiki-taka style of Barcelona and Spain, but he has the ability to operate in any side, and will only get better with the experience of regular football.
If he were to head to England and join United, Thiago - who has a £15million release clause - would be able become a consistent partner for Michael Carrick, something the Premier League champions have lacked for years, and being alongside the defensively-minded international, would give the Spaniard far more attacking freedom.
I think he is an extraordinary player. Thiago is not just a player for the future, but he is someone who can make an impact right now as well.
– Barcelona midfielder Xavi Hernandez talking about Thiago

Thiago case and point; little shifts he makes between defensive lines, dropping off to associate, dictating play. Very mature out there.

Still reckon Thiago will stay at Camp Nou, but if he does leave for €18m due to clause, will be blunder of blunderbuss proportions by club.