Player profile: Jackson Martinez, striker, Porto
by Will Unwin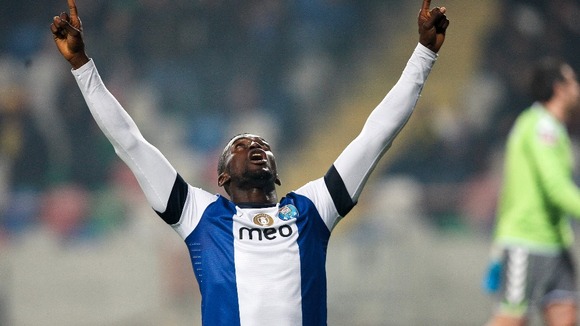 Name: Jackson Martinez
Position: Striker
Born: 1986
Club: Porto
Country: Colombia
The path from South America to Porto is a well-trodden one, with the likes of Radamel Falcao and James Rodriguez both making their names that way.
Most recently, Jackson Martinez has followed the same route, having arrived in Portugal last year for a fee of just €8million from Mexican club Jaguares.
The 26-year-old striker made an immediate impact in the Superliga scoring 26 goals in just 30 appearances in his first season in Portugal.
Thanks to his prolific nature, scouts from top European clubs have flocked to the Estadio do Dragao to check on the progress on the Colombian forward, and possibly the local fortified wine.
Porto have also offered Martinez the chance to show what he can do in the Champions League, scoring twice against Dynamo Kiev at home in the group stages (see video below). However, he only netter once more in his other seven appearances on the continent, as he struggled to cope with the higher standard of opposition.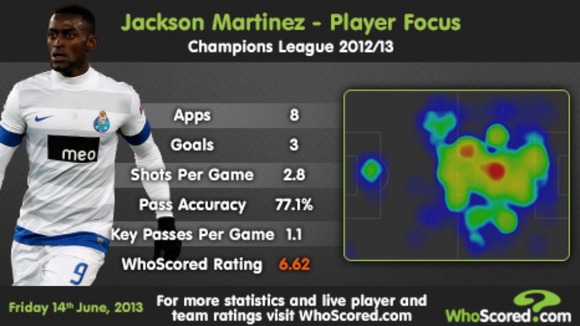 Martinez is deadly inside the 18-yard box, which is where he gets the majority of his goals, thanks to his movement and sublime control, which allows to find space and finish with his natural composure.
Furthermore, the Colombian is a constant threat in the air, as he possesses a great leap and the ability to get away from defenders, which can cause havoc from set-pieces and crosses, something which will interest Spurs, who own two quality wingers.
He can also come up with a long-range strike out of nothing, with his powerful shooting capable of giving goalkeepers no chance of stopping the ferociously struck ball.
Due to the failing economy of the footballing world, Martinez's most likely destination would be the Premier League, at a cost of around £25million. Spurs have looked the most willing to make an offer, but Chelsea have also batted their eyelashes in his direction.
It would seem, however, that Martinez would prefer to stay in Portugal for at least another season, having settled quickly, with no plans to uproot after just one campaign on this continent, believing he can continue to learn but moving on to one of the bigger leagues.