Player profile: Alvaro Morata, striker, Real Madrid
by Will Unwin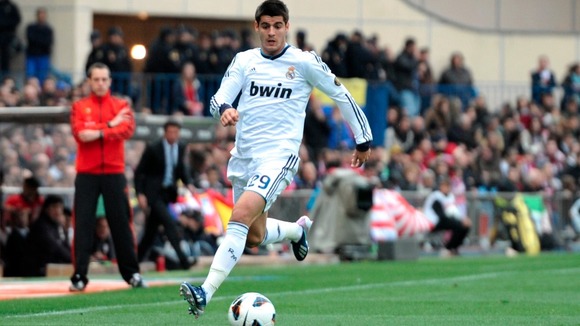 Name: Alvaro Morata
Position: Striker
Born: 1992
Club: Real Madrid
Country: Spain
Like almost every boy born in the Spanish capital, Alvaro Morata dreamed of playing for Real Madrid, and he looks set to increase his game time this season under Carlo Ancelotti.
Despite being one of the hottest young talents in Spain, the 20-year-old striker has only 14 league appearances to his name at the Santiago Bernabeu.
Morata wasn't aided by Jose Mourinho's lack of interest in the Real Madrid cantera, which forced the former Atletico Madrid and Getafe youngster to reconsider his future with Los Blancos.
Impressive performances for Castilla (Real's B team) saw Morata make the fringes of the Mourinho's squads, but ousting the likes of Cristiano Ronaldo, Gonzalo Higuain and Karim Benzema was too much to ask for the Spain Under-21 international.
He has shown glimpses off what he can do in La Liga, but has been limited to mainly substitute appearances, operating on the wing, as opposed to a central striking role, where he is more comfortable.
Luck also wasn't on his side last season - on a rare start under Mourinho he scored early on against Rayo Vallecano, but he was the victim of a tactical substitution after just 27 minutes following a Raul Albiol red card.
Even with this misfortune, Morata has been earmarked as a future full international, and the Spanish sports daily Marca states that he will be given more opportunities by new manager Carlo Ancelotti, as the club look to offload the likes of Higuain and Kaka to open the door for their own academy starlets.
As a player, Morata has all the assets to become a mainstay in any top European side; he has great technical ability, with his close control and dribbling allowing him to not look out of place when given a role on the wing, where he was played in Real's 2-1 win over Barcelona in March, setting up the opening goal for Karim Benzema.
When he does play down the middle he is a tricky customer, as his movement and pace mean he is a very good target for the inevitably talented midfielders playing around him, who provide the assists.
Morata is fearless when in control of the ball, and is willing to run at any defender who comes into his way, as Barcelona found out to their cost at the Bernabeu. His instinctive manner means he can defeat a player with a drop of a shoulder or a silky piece of skill, and his speed can get him away.
At the end of the season, Morata came to the continent's attention at the European Under-21 Championships, being a key figure in La Rojita's dominant triumph over in Israel.
During the tournament, the Real man was the overall topscorer, netting four times in just five games, including a wonderful individual effort against Germany.
Although it now looks like he will be sticking with Los Merengues next season, if he were to come available both Manchester United and Liverpool would reignite their interest in him.
This last year has helped me to learn a lot and to cope with the different situations that can arise in a dressing room with the best players in the world.

I already know what a real professional dressing room is like, and I am sure that everything will be easier now.

I have grown a lot. I think I also have to thank the two coaches I have had who have turned me into a more rounded player.

At the start I saw playing on the wing as something different but it has helped me to have more skills and more intuition about what the defence will do.

Fighting bit by bit and with the confidence that I got at Madrid I have made it here and I hope that I can progress more with Real Madrid.

I feel comfortable receiving the ball with my back to play and I always try to turn.
– Real Madrid striker Alvaro Morata speaking to the club's official website