Should Liverpool be tempted by £30m for Luis Suarez?
by Chris Mendes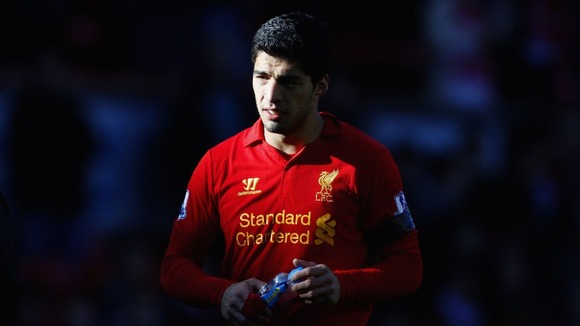 The reaction from Liverpool fans to Arsenal's reported £30m bid for Luis Suarez has gone something like this...
Joke Of The Day: Arsenal offers 30 million for Suarez..!!
Arsenal bidding £30 million for Suarez is a joke, try doubling that
If £30m is such a derisory offer for Suarez then it's worth asking how much the striker is actually worth in today's market.
When comparing his club stats from last season with those of Radamel Falcao, Neymar and Edinson Cavani you begin to forge a clearer idea.
Falcao and Neymar have moved clubs recently for £50m and £48m respectively, while Napoli are holding out for bids in excess of Cavani's £54m buyout clause. Should Suarez demand a similar fee?
Radamel Falcao
Value: £50m, paid by Monaco in June 2013
2012/13 games: 37
2012/13 goals: 32
Goals per game: 0.86
Neymar
Value: £48m, paid by Barcelona in June 2013
2012/13 games: 31
2012/13 goals: 29
Goals per game: 0.8
Edinson Cavani
Value: £54m price tag
2012/13 games: 41
2012/13 goals: 36
Goals per game: 0.88
Luis Suarez
Value: ?
2012/13 games: 44
2012/13 goals: 30
Goals per game: 0.68
Despite enjoying his most successful period for Liverpool last season, Suarez's goalscoring exploits didn't quite match up to Falcao, Cavani or Neymar.
There is more to forward play than goals and much to be said about the Uruguayan's phenomenal work rate, but it's also worth considering how much controversy he courts.
Suarez is serving a ten game ban at Liverpool for biting Chelsea's Branislav Ivanovic and has also missed eight matched for racially abusing Patrice Evra. The risk attached to buying a player prone to long periods on the sidelines is certainly something that should be reflected in his value.
Surprisingly, Liverpool have also coped well in Suarez's absence since his Premier League debut in 2011. The Reds have won 30 of the 77 fixtures featuring Suarez (39%) compared to eight of the 13 games he has missed (62%).
All things considered, do you think Liverpool should be tempted by Arsenal's £30m offer? Or is Luis Suarez worth closer to the £50m Monaco forked out for Radamel Falcao?
Let us know what you think on Twitter @ITVFootball