Sunderland - The Di Canio Revolution
by Chris Kynoch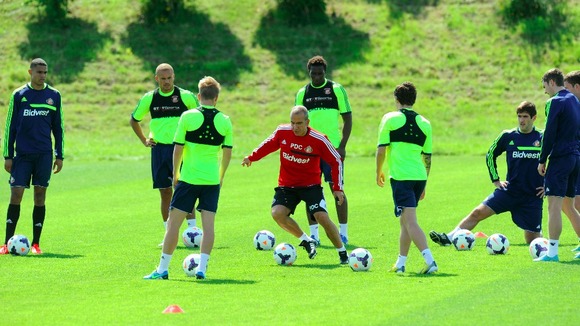 Finally the decaying remains of Roy Keane and Steve Bruce's faulty Sunderland squads of recent years are on their way out. The Di Canio effect is in full swing.
When Martin O'Neill got sacked at the end of March this year Sunderland fans were in disarray. Who was going to save the club from relegation with only six weeks of the season left? The maverick Italian was brought in, and did exactly that. Only just though, finishing 17th.
Eyebrows were raised at the appointment but after only two weeks the fans were pledging their support to one of football's biggest characters. A 3-0 win away at rivals Newcastle United made a frightfully disappointing season look a lot brighter.
Despite this, drastic change was needed. A complete overhaul of the squad was the initial step in going forward, and is now being executed by the Sunderland management.
Di Canio, who is using his vast experience of playing in the Premier League, has favoured more physical acquisitions. Valentin Roberge, Cabral and Modibo Diakite are all examples of the Italian's model.
Forget about the 'cold Tuesday night at Stoke'. Sunderland will pack a considerable more powerful punch next season for teams visiting the freezing cold Stadium of Light than their Potteries rivals.
It's amazing what one result can do though. The famous win again the Toon is where most Sunderland fans' constant belief in Di Canio comes from, and that was certainly needed after the sale of goalkeeper Simon Mignolet.
The fans' favourite and 'player of the season' moved to Liverpool for £11million, but with so much faith lying in the arms of their young manager, the sale didn't receive as much criticism had it have been one of Di Canio's much maligned predecessors who had had cashed in on him.
Vito Mannone was brought in from Arsenal as competition for Keiren Westwood. And with the former Coventry man having so much potential, many are expecting the Irishman to fill the gloves of the departed Mignolet.
O'Neill's signing of Danny Graham in January was lambasted on Wearside before the ink was dry on the player's contract. After admitting in an interview a few years ago that Sunderland was the last team he would support; no goals in 11 appearances didn't give his new fans' much reason for encouragement.
To solve this problem, and continuing his search for physical players, Di Canio signed 6ft1 striker Jozy Altidore joined from AZ Alkmaar in a £7million deal.
Some supporters will remember the American from his unsuccessful time at Hull City when he was much younger, something that he shouldn't be judged on as his record since has been quite impressive; 31 goals in 41 appearances for AZ last season indicates that the player has finally found his feet after various spells with clubs across Europe.
His arrival is much needed, as the three-month struggle at the end of last season when top-scorer Steven Fletcher was injured cannot happen again. Graham was looked upon to get the much-needed goals to save his side from slipping into the Championship, but he never got going. Thankfully other players stepped into his breach as the club survived and are now looking towards a much more successful season.
---
With Di Canio already delving into the Italian market already for the likes of Diakite, other signings from his homeland could also be on their way with Juventus winger Emanuele Giaccherini heavily linked with the Black Cats. Some of Newcastle's impressively cheap French signings have obviously been studied by the Sunderland manager and his new scouting team who believe that Italy could be their talent goldmine.
The fans' faith in Di Canio is obviously shared by the board, with owner Ellis Short giving his manager the freedom to spend. The Sunderland faithful are just hoping that unlike previous managers' attempts, success on the pitch is a fulfilled reality and not just foundationless hope.