The stats say selling Wayne Rooney would be silly for Manchester United
by Chris Mendes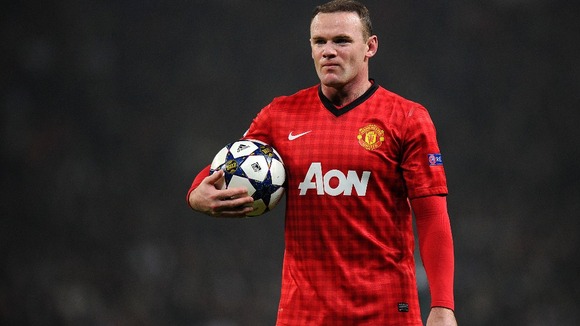 Wayne Rooney may be 'angry and confused' about how David Moyes sees his role at the club, but the stats suggest the new boss would be crazy to sell his wantaway striker, particularly to a Premier League rival like Chelsea.
United have enjoyed a better win ratio over the last four seasons with Rooney in the side, and since this season's Premier League title race is expected to be extremely close, losing him could prove the difference between finishing first or third.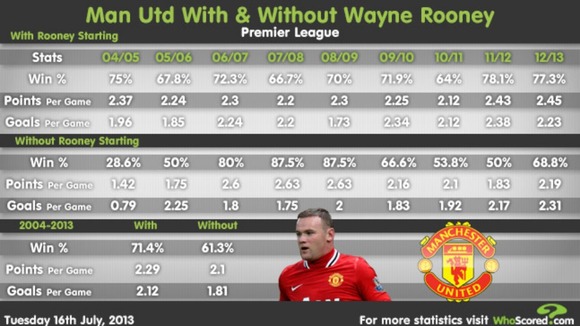 Stats provided by WhoScored.com
Last summer it was United who beat Man City to the signature of Robin van Persie, a signing which proved pivotal in winning back the Premier League title City had clinched on goal difference in May 2011.
Conversely, United fared better without Rooney in the side when they collected three consecutive league titles between 2006 and 2009, coinciding with Cristiano Ronaldo's sparkling form at Old Trafford.
But Ronaldo's departure placed more responsibility on Rooney's shoulders and despite Van Persie's arrival in August 2012, United remained noticeably weakened without Rooney in the side.
At times his individual performances haven't matched his ability, but his importance to the side shouldn't be overlooked by Moyes, who is still trying to make his mark in Manchester.
However, the England striker's questionable fitness could tempt Moyes into accepting Chelsea's offer of cash plus Juan Mata, a man who has recently sparkled in England.
Can't work out what's madder: Chelsea offering to swap Mata/Luiz and £10m for Rooney, or United rejecting it.
Difficult to understand why United are so determined to keep Rooney when he's so determined to engineer a move.
Rooney for Mata is like me part-exchanging my Ford Fiesta for a BMW and getting cashback. Done fine for me, but had a few problems with it.