Man United boss David Moyes refusing to moan about pitch ahead of Hong Kong fixture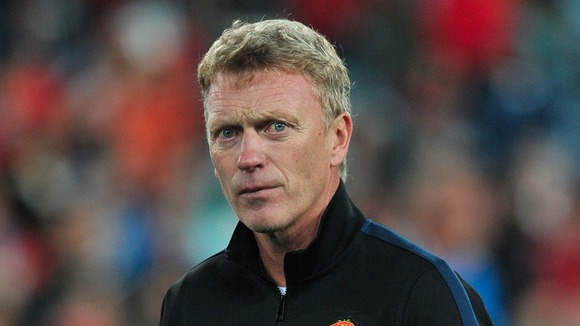 Man United have shrugged off any concerns about the state of the pitch they will encounter at Hong Kong Stadium tomorrow.
The surface has been woeful since last week's deluge immediately before Tottenham met Sunderland in the Barclays Asia Trophy last Wednesday.
Further heavy rain in Hong Kong yesterday did more damage to the surface, although - thanks to the efforts of Spurs groundsman Darren Baldwin - the bi-annual pre-season competition was completed as scheduled.
Baldwin has departed now, though, meaning United cannot be entirely sure how the pitch will be treated ahead of the final game of their five-match pre-season tour against Kitchee FC tomorrow evening.
United boss David Moyes, who was present to watch last night's games, cancelled a planned open training session with the aim of protecting the pitch.
He is hopeful a rare sunny day will have had a positive effect, although by the evening the rain had returned.
Nevertheless, United intend to fulfil their obligation without complaint.
"Two teams have to play on it," Moyes said. "It is the same for everybody.
"We are used to playing on good surfaces and pitches but there was nothing the people in Hong Kong could do to make the weather any better. It was terrible for three or four days.
"It is drying out now, which might make it worse if it gets bobbly."
England international Phil Jones was of the same mindset, although he could not remember when he had ever played on worse.
"I am not sure what the worst pitch was that I have played on," he said.
"No matter what is presented to us tomorrow night, we are ready to play."
Sunderland manager Paolo Di Canio labelled the pitch "a killer", while Tottenham counterpart Andre Villas-Boas blamed it for the ankle injury suffered by Jan Vertonghen which makes the Belgian a doubt for their season-opener at Crystal Palace on August 18.
The issue was raised with Moyes this evening, although, as he pointed out, injuries do not occur exclusively on bad pitches.
"Players can get injured on good pitches as well," he said. "We would rather be on a very good surface. That is obvious."
Of United's travelling party, which will fly back to Manchester straight after the final whistle, only Jonny Evans has definitely been ruled out with an ankle problem.
But Sunderland's Craig Gardner has warned a sell-out 40,000 crowd not to expect free-flowing football.
"The pitch was absolutely horrendous," he said. "It wasn't bad enough for the game to be cancelled, but it was soft. It was dead.
"You couldn't pass the ball forward because it wasn't rolling properly and you were scared in case you passed it inside in case it stopped rolling.
"You had no choice but to hit it long."