Striker Mo Bangura set to face parent club Celtic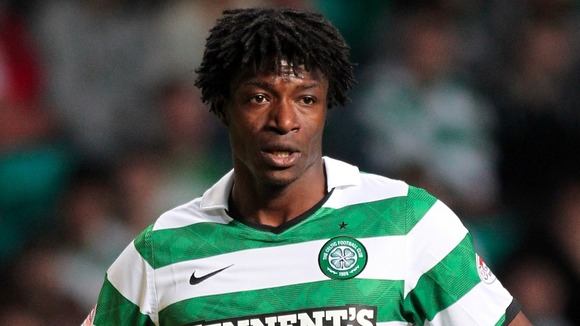 Neil Lennon admits his bid to prevent Mo Bangura lining up against Celtic for Elfsborg in Wednesday's Champions League third qualifier at Parkhead has almost certainly been in vain.
The Hoops manager has been strident in his position that the on-loan Hoops striker would be best served not playing against his parent club.
However, the 24-year-old striker from Sierra Leone arrived in Glasgow today for the first leg, with the Swedish club's boss Jorgen Lennartsson reiterating that he will play if required.
Lennon, speaking at the pre-match press conference at the club's Lennoxtown training complex, is now preparing for a "strange sort of scenario."
"I am not going to make a big song and dance about it but the reality of it is, there is a big possibility that Mo could play," he said.
"If he plays, he plays and we are preparing for it as if he is playing.
"You would probably need to ask him how he is feeling more than me.
"We made our feelings pretty clear over the last week or so but we have to respect Elfsborg's decision.
"I am trying to do what's best for Celtic and the Elfsborg manager is trying to do what's best for Elfsborg.
"There is a good relationship between the two clubs, I just think it puts Mo in a very difficult position.
"I wouldn't like to be in that position myself, put it that way.
"I am sure Mo will know plenty about our players but we have plenty of information on Elfsborg.
"I watched them at the weekend and Johan (Mjallby, Celtic's Swedish assistant) knows Swedish football very well so we will be well prepared for them."
Parkhead midfielder Joe Ledley was quoted as saying that if Bangura "scored the winner and knocked us out of the Champions League, then it would be difficult for him to come back."
Lennon was asked about the nightmare scenario and he recognised the danger.
"We are talking hypothetically so we will cross that bridge if and when we come to it," he said.
"It is a situation that doesn't occur very much in football but we will deal with as best we can."