Lambert rewarded with England nod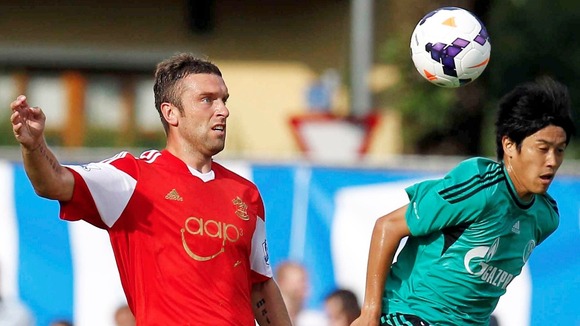 Rickie Lambert has been called up by England for the first time ahead of Wednesday's friendly with Scotland at Wembley.
With Wilfried Zaha's inclusion widely predicted, Lambert's selection by Roy Hodgson was the major surprise.
Zaha's Manchester United team-mate Wayne Rooney has also been picked despite not playing any pre-season games due to hamstring and shoulder injuries.
Rooney has only played one match this summer - a pre-season friendly against Real Betis behind closed doors.
Hodgson admits the 27-year-old, who has been the subject of two rejected bids from Chelsea this summer, may not be fully fit for the match against the Scots, but insists it was still worth including the striker in his squad.
"It's pretty obvious that he is not fully match fit but the important thing is to have him with us in the squad and to assess how many minutes he can play in the game," the England manager said.
"I have spoken to David [Moyes, Manchester United manager] and he understands it is important to have Wayne with us and Wayne himself of course wants to be a part of the England set-up coming into these important games.
"It might not be ideal. He hasn't played the minutes we would have liked during pre-season but it is very good that he is going to be available to join us."
Lambert's inclusion comes on the same day his partner gave birth to a daughter, named Bella Rose.
Lambert was released on a free transfer by Blackpool 13 years ago and then went on to play for a series of Football League sides such as Macclesfield, Stockport, Rochdale and Bristol Rovers before signing for Southampton.
Hodgson considered signing the 31-year-old when he was manager of Fulham after watching him play against the west London team for Bristol Rovers.
The Three Lions boss respects Lambert for making it to the top after such a long journey.
Hodgson added: "What really impressed me about him is that this is a man who has come up the hard way starting in non-league.
"He is a man who has worked hard to prove himself over all these years and deserves his call up at a time when a couple of players like Daniel Sturridge and Andy Carroll, who might have got the nod ahead of him, are unavailable."
Sturridge misses out with an ankle injury he suffered against the Republic of Ireland in May while West Ham striker Carroll is absent because of a heel injury.
Jermain Defoe has been included in the 25-man squad despite a hamstring injury he suffered against Monaco last Saturday.