Southampton striker Rickie Lambert living the dream in England squad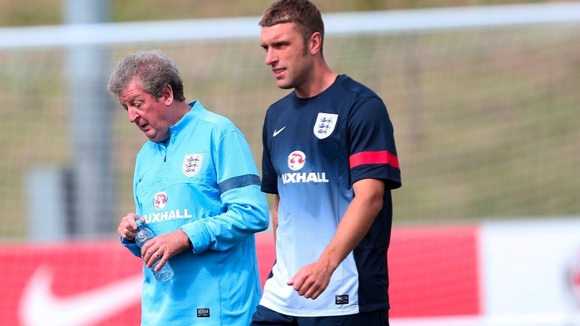 Rickie Lambert never gave up hope of playing for England - even when he was screwing lids on the top of beetroot jars for a living.
Lambert trained with the England squad for the first time this morning after receiving a surprise call up last week.
It was the latest chapter in a remarkable rags to riches story that began 13 years ago, when he was released by Blackpool after an unsuccessful two-year apprenticeship.
Without a contract and with barely a penny to his name, the striker had to resort to working in a beetroot factory near his home in Kirkby to pay for his travel to Macclesfield, where he trained with the squad to maintain his fitness.
The Cheshire club offered him a contract and he repaid them handsomely by scoring freely. He then rose through the leagues, earning contracts at Stockport, Rochdale and Bristol Rovers before joining Southampton, where he scored 15 goals in his first season in the top flight.
After training with the likes of Wayne Rooney, Joe Hart and Jack Wilshere at St George's Park this morning, the beetroot factory is nothing but a distant memory.
"I have tried to play it cool and act like I am in control, but inside I am really excited," a giddy Lambert said this afternoon.
Lambert kept telling himself he must never give up on his dreams, even at his lowest points.
"Never, even in the bad moments, was I ever going to give up," the Saints striker said.
"When I was let go by Blackpool, I didn't think my time had passed but I was a million miles away (from England).
"I couldn't get a club anywhere, I was training at Macclesfield without a contract and I didn't have any money so I had to had to earn some by (working in) a factory. It was a beetroot factory. I don't even like beetroot!
"I was just putting the lids on the jars. That was basically it. That was bringing in the money and I was going on training with my friend.
"But I knew I was going to get a contract and get back in to football when I was released by Blackpool.
"The main reason I came back was because I never gave up."