Allardyce looking forward to Carroll-Downing axis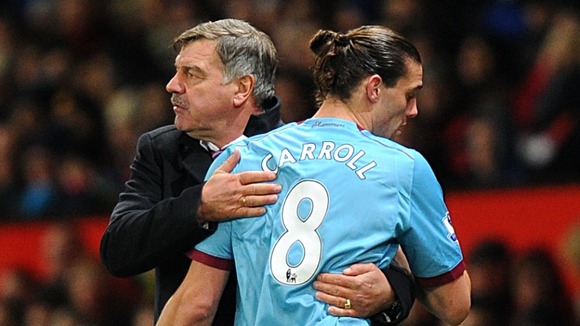 Sam Allardyce believes Rickie Lambert and his own West Ham striker Andy Carroll are now in a head-to-head battle to be England's World Cup target-man.
Lambert made a dream debut last night when he scored the winner in England's 3-2 victory over Scotland at Wembley with his first touch in international football.
Allardyce hailed Lambert's contribution as "Roy of the Rovers stuff" and he feels the 31-year-old has laid down to the gauntlet to Carroll, who is currently recovering from an ankle injury.
England still have to qualify for next summer's tournament in Brazil - but if they do, Allardyce is sure that national manager Roy Hodgson will need either Carroll or Lambert in his armoury.
"I think there a choice for that type of player between Andy and Rickie. It's going to be a challenge this season on who's the best of the two," Allardyce said.
"Andy is looking forward to playing for us and doing a great job, which we would hope will get him to Brazil. I'm sure Rickie is the same. One or the other would go.
"I think it will be a competition between the two on who consistently plays the best this season. From a selfish point of view I hope it's Andy.
"But for Rickie it was great to see him come on and make a statement.
"To get the winner against Scotland shows what he (Lambert) can do and what England might be missing a bit.
"That's when they get into the final third and a crowded penalty area, and the best way of penetrating that type of defensive situation is aerially, he is a very strong powerful header of the ball.
"It shows you have to have other dimensions in your squad no matter what level you play at."
Allardyce believes the value of a good delivery towards a strong target man is overlooked in the modern game, which is one of the reasons he signed Stewart Downing from Liverpool.
The Hammers manager spent the last £6million of his transfer budget on Downing based on his performances for Aston Villa, rather than his disappointing two years at Anfield.
Downing was pressed into action at left-back by Liverpool boss Brendan Rogers but Allardyce wants him getting forward and delivering crosses for Carroll or Modibo Maiga.
"I was more Stewart Downing Aston Villa than I was Stewart Downing Liverpool," Allardyce said.
"That's more of what I'm looking for. That's no reflection on what Stewart did at Liverpool because he was asked to play a different way than he was at Aston Villa.
"As everyone knows I like crosses and there are lots of managers who don't like (crosses) any more. Stewart is a quality player, value for money, somebody who sits at the top of our performance stats as well as a nice guy."