Stewart Downing admits he likes the way Sam Allardyce's teams play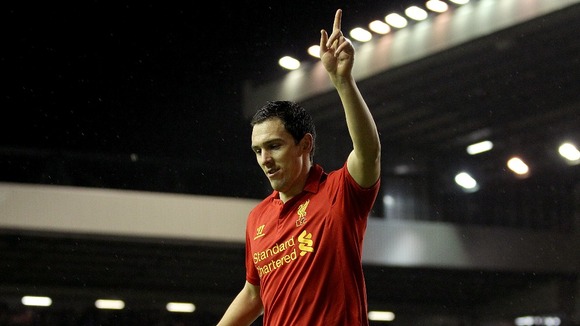 Stewart Downing has rejected the suggestion from Liverpool manager Brendan Rodgers that he quit Anfield for Upton Park because he had been offered "an incredible deal" by West Ham.
Downing trained with his new team-mates for the first time today after signing a four-year contract and completing a reported £6millon move to West Ham.
Rodgers said: "It's ultimately the player's decision really. Stewart was one I was in no hurry to move, he had two years left on his deal, but he was offered an incredible deal at West Ham so decided to go with it."
But Downing was surprised to discover Liverpool had accepted a bid for him given he had been told that he had worked his way back into Rodgers' plans with his performances last year.
The 29-year-old had been prepared to fight for his place.
But once Liverpool accepted the bid and he spoke to West Ham manager Sam Allardyce, Downing was convinced his future lay in east London.
Downing was attracted by the four-year deal on offer, the prospect of regular football in a style more suited to his game and a potential route back into the England team - but he took a pay cut to join West Ham.
"It happened so quickly. I was playing in Dublin with Liverpool and I thought I'd be starting the season with Liverpool," Downing said.
"I spoke to Brendan just before the game and he said there'd been an offer accepted, he said he didn't want me to leave but obviously the club had agreed for me to go so I just thought it was right for me.
"I'm disappointed that one minute I was staying and the next minute I'm gone.
"I was in and out the team at Liverpool. The way they're going it will be a younger team.
"They bought players who were ahead of me. I was going to stay and fight.
"Then I got permission to speak to Sam. He had some good ideas for the team, the club. I just thought: 'Yeah it feels right to go to West Ham'."
Downing played regularly last season but usually at left back, a position in which Allardyce believes his best qualities are wasted.
Allardyce will use Downing as an offensive wide man, charged with getting the ball into the box for the likes of Andy Carroll, Kevin Nolan and Modibo Maiga.
"I'd rather play wide or front positions and I'm glad Sam agrees with that," Downing said.
"I like the way Sam's teams play. I just feel it suits my game better."
Allardyce believes he can make a success off the Downing-Carroll combination that never really took off at Anfield, chiefly because they did not fit with Rodgers' style of play.
But Allardyce believes in the value of a good cross and a dominant target-man - as highlighted by Rickie Lambert's goal for England - and feels it is often overlooked in the modern game.
Allardyce sees Lambert and Carroll going head-to-head for that role with England in the build-up to the World Cup - and he feels there is no reason why Downing cannot get back in the national set-up.
"He's 29 and will play every week for us. And if Roy comes and watches him, and we get the best out of him, we can get him back in the England squad," Allardyce said.
"That will depend on us as a squad and him as an individual to make sure we get the sort of results where Roy can't ignore what Andy or Matt Jarvis or Stewart are doing."
Downing's last involvement with England was at the 2012 European Championships, when he was selected for the squad but did not play.
"I haven't been picked since, which is a bit strange," Downing said.
"That's why I think I'm moving at a good time with a year leading up to the World Cup I have a chance to play. It is up to me now."