Act now for 2014 FIFA World Cup Brazil tickets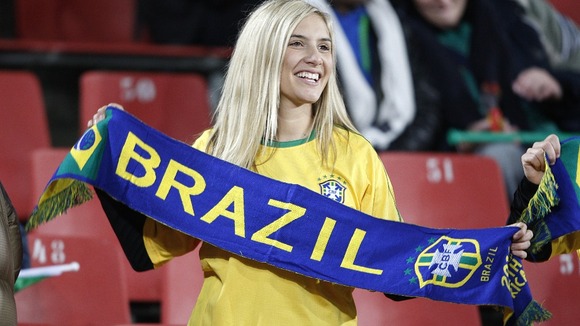 FIFA's Director of Marketing Thierry Weil believes that fans will be able to purchase tickets easily and at reasonable prices for the summer showpiece event next year with tickets on sale initially from Tuesday through until October 10th.
Weil revealed to FIFA.com: "We learnt some lessons at the Confederations Cup and in order to improve the sales system decided to open more Ticket Distribution Centres, in locations that are easy for people to access.
"These centres will also be open earlier. The plan is to have them working by April 15th, with the Brazilian population in mind first and foremost. Fans will be able to choose either to collect tickets at Distribution Centres or have them delivered to their home address, anywhere in the world.
"Speaking about predictions and expectations for sales is always complicated. Personally, I imagine we will face demand similar to that seen in Germany in 2006, when there were, on average, seven applicants for each ticket.
"But each situation is very specific. In South Africa in 2010, for instance, we sold 1.9 million tickets but the bulk of those were sold during the tournament, just before games, as culturally that's how tickets are bought there."
Tickets will either be individual match, team or venue specific ranging from roughly £57 up to £112 for the group matches apart from the opening ceremony match on June 12th in Sao Paolo featuring hosts Brazil, which is priced between £140 and £316.
One per cent of seats will also be allocated for disabled supporters. The price has been set at the Category 3 level with those people entitled to one complimentary ticket for anyone assisting them.
Concessionary tickets will total 300,00 minimum from Category 4 out of the nearly one million tickets on sale first of all and cannot be made by post with documentation needed at point of sale.
With the group draw not known until December the first phase still needs payment details, however it is not a first-come, first-serve basis therefore you can wait until nearer the October deadline.
If you order your tickets in one go, you are guaranteed to sit together however there is no guarantee if you order separately.
November 5th represents the next stage of applications, which is based on a first-come, first-serve basis, so act quick then.
Should you wish to wait until after the group stage draw, you will have another chance to purchase tickets from December 8th until January 30th but bear in mind that far fewer tickets will be available.
The next phase is first-come, first-serve from February 28th until April 1st with the April 15th to July 13th period representing the final chance to mop up tickets online and over the counter in Brazil. You can resell through FIFA, however the main applicant is obliged to go as their name is on the ticket. If you want a Rio final ticket, it will set you back as much as £632.