Birmingham boss Clark rages at Yeovil over behaviour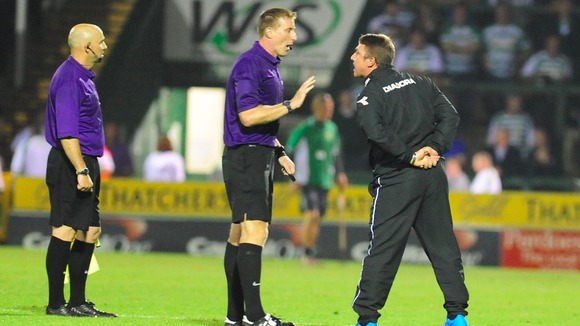 Birmingham manager Lee Clark intends to make a complaint against Yeovil after accusing them of poor sportsmanship in the two side's Capital One Cup clash.
Clark saw his side progress on penalties after a 3-3 draw at Huish Park, but was left incensed by Byron Webster's equaliser for Yeovil to make it 2-2 in injury time of normal time.
The goal came after Birmingham goalkeeper Colin Doyle had kicked the ball out of play following an injury to Blues defender Dan Burn and Clark felt Yeovil should have returned the ball to his side.
Having gone ahead in extra-time through Luke Ayling, the Glovers then immediately allowed Lee Novak to equalise unchallenged, but the act did not appease a furious Clark.
He said: "I might be wrong but my parents made me grow up to be a good sportsman, win lose or draw.
"I'm going to go down the right channels to complain. I think something has got to be done.
"It's always easy to give a goal back when you're leading. We were winning going into injury time."
Yeovil manager Gary Johnson admitted he told his team to play on and not return the ball from the throw-in.
He said: "I apologised to Lee Clark at half-time in extra-time because, on reflection, it was ungentlemanly. However, we get a bit fed up of teams kicking it out for their own players here when we're trying to get a goal back.
"I wanted us to play on but I didn't expect the Birmingham side to stand still, and didn't expect Byron to hook a goal in.
"I think people should look at this. How many teams are going to kick the ball out for their own players in the last minute?
"I apologise to the Birmingham fans, staff and players, but this kind of thing is happening too often at the minute."