Sunderland boss Paolo Di Canio questions player commitment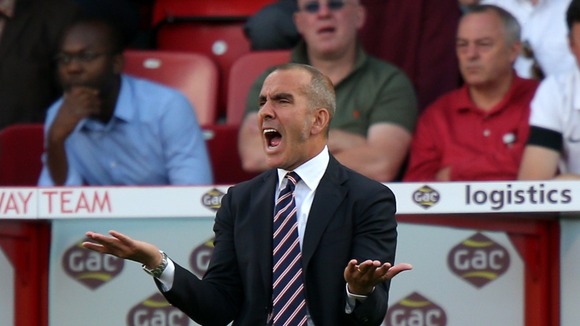 Sunderland manager Paolo Di Canio has warned his team's problems will worsen unless the players change their attitudes.
The Italian revealed he could not get angry with his team following their 3-1 defeat at Crystal Palace because they were simply too poor, but away from the dressing room he was forthright with his views on their commitment to the Sunderland cause.
The Black Cats have taken just one point from their opening three Barclays Premier League games and only briefly looked capable of leaving Selhurst Park with a positive result.
Danny Gabbidon's deflection gave Palace an early lead before Steven Fletcher came off the bench to equalise on his first appearance for five months.
But the hosts hit back through a Dwight Gayle penalty, with Sunderland skipper John O'Shea sent off for bringing down Jason Puncheon, and a superb injury-time goal from Stuart O'Keefe.
"There wasn't the real determination to damage the opponent," Di Canio said.
"We have to work hard in terms of our attention, desire, dedication and commitment for this cause otherwise it will be really, really, really tough.
"We have to make sure everyone works hard for this cause otherwise it will be really difficult."
Getting the first win is the obvious target, but Di Canio says that will be achieved "only if everybody is going to play like it's the last game of their life, otherwise it's going to be very tough".
He added in a BBC Sport interview: "If we think we are very good footballers, that can be fake self-belief. If we think that probably we are less better than the others, it means we have to give much more on the field and maybe sometimes kick the ball far and play with a less lazy attitude.
He described Palace's strikes as "three poor and pathetic goals", and was clearly upset with captain O'Shea.
"Our leader didn't react in the way he should. That is terrible because it was a crucial game for us," said Di Canio.
"The penalty didn't come from a dangerous situation. It's absolutely poor and not acceptable.
"It was difficult to see this goal at this level. John O'Shea did something really wrong but he is an experienced footballer."
Di Canio added: "(I'm disappointed) with John O'Shea, but with a few players and there is not the right desire. That was a very important game for us. I cannot change the heart of my players.
"We were on top for most of the game but three very pathetic goals that we conceded did not give us the chance to fight back.
"We can work and hope they're going to play much less national team games because otherwise I'm going to work before the international break with players still talking today about 'Which flight can I get?', 'When can I come back?'.
"They don't focus their attention to the game which is more important.
"We have to work hard for this club and for the fans who every Saturday travel and spend a fortune to follow us."
Speaking in his press conference, Di Canio said: "Today it was difficult to be angry. Normally I can tell you I'm very angry, but today it was difficult - it was too poor that it was really difficult to say something."