Gareth Bale celebrates 'dream move' to Real Madrid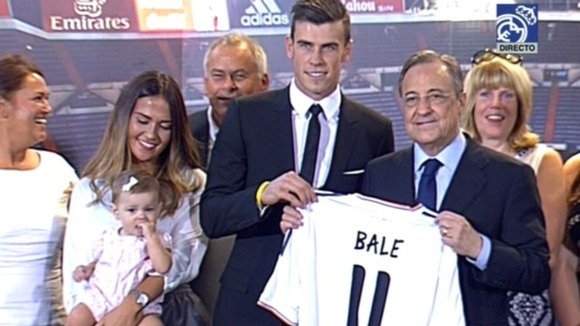 Gareth Bale has been presented as a Real Madrid player after completing his record-breaking move from Tottenham.
Bale flew to the Spanish capital this morning after Real ended over two months of speculation, gossip and negotiation on Sunday night by announcing they had agreed a deal - thought to be worth 100million euros (£85.3million) - with Spurs for the 24-year-old.
The Wales international successfully passed his medical before signing a six-year contract with the Spanish giants, where he will link up with Cristiano Ronaldo, who in 2009 became the most expensive player in the world when Real signed him from Manchester United for £80m.
After putting pen to paper on his Madrid contract, Bale was officially unveiled to fans at the Bernabeu during a presentation that also saw club president Florentino Perez welcome the forward to the nine-time European champions.
Bale, who will wear the number 11 shirt at Madrid, also spoke to his new supporters, including a message in Spanish where he said: "Hello, it's a dream for me to play for Real Madrid. Thank you for the great welcome. Go Madrid!"
Madrid will hope the acquisition of Bale will help them achieve their ambition of winning a record 10th European Cup title this season, something that has become an obsession for the club in recent years.
Despite huge outlays on 'galacticos' such as Ronaldo, Kaka, Karim Benzema and David Beckham, the last time the club conquered Europe was back in 2002.
Bale is keen to help them end that wait, saying: "It's great to be here and I hope I can help the team win the 10th European Cup."
Following his presentation, Bale changed out of his suit and into his Madrid kit before heading down to the Bernabeu pitch, where he performed the traditional keep-ups in front of around 20,000 fans before kicking and throwing balls into the crowd as he made his way around the pitch.
He then made his way to the centre circle where he applauded the supporters and kissed the Madrid badge on his shirt.
Bale revealed last night that joining Madrid was the fulfilment of a dream of his.
He said: "I know many players talk of their desire to join the club of their boyhood dreams, but I can honestly say, this is my dream come true."