Video: Welbeck disappointed with yellow card, Lambert delighted with contribution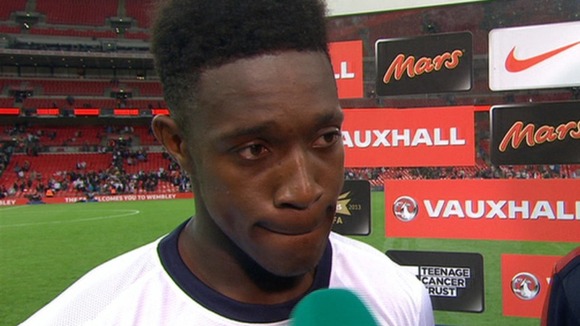 England striker Danny Welbeck put the disappointment of a yellow card which rules him out of the next World Cup qualifier behind him to score twice in England's 4-0 victory over Moldova at Wembley.
Welbeck's two goals added to those of Steven Gerrard and Rickie Lambert and the Manchester United striker said he had put the yellow card out of his mind even though he knew it would see him miss Tuesday's encounter in Ukraine.
Welbeck told ITV1: "I am actually very disappointed to get a yellow card.
"You can't always hear the referee's whistle. Even then I believe I was onside and I wanted to put it in the back of the net.
"The main thing is to play your part for the team."
Lambert made it two goals in as many games for England and said: "We won and I managed to get on the scoresheet."
The Southampton forward spared a though for Welbeck, adding: "It's a shame that Danny's got the yellow card.
"I'm hoping I've given them a different option, that's all I can do."
Manager Roy Hodgson was unhappy with the circumstances of Welbeck picking up a second yellow card of the qualifying group.
He said: "We were already short of strikers that's for sure.
"It wasn't in any way a question of (Welbeck) kicking the ball away."
Hodgson had gone into the game without injured strikers Wayne Rooney and Daniel Sturridge.
"It's not many teams that can survive the loss of two quality centre forwards like Rooney and Sturridge and win 4-0.
It (Welbeck's dismissal) takes off the gloss off what I thought was a good performance and a good win."