Prince Abdullah bin Mosaad Aldulaziz of Saudi Arabia has vowed to help take Sheffield United back to the Premier League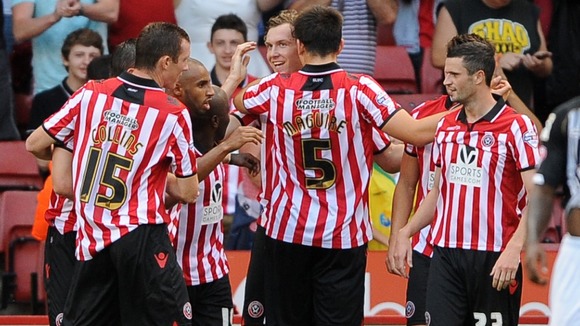 Prince Abdullah bin Mosaad Aldulaziz of Saudi Arabia has vowed to help take Sheffield United back to the Premier League.
Prince Abdullah has bought a 50 per cent stake in the Blades' holding company, becoming co-chairman with Kevin McCabe, and has promised to plough a substantial amount of funds into the club.
The Blades are languishing in League One and it has been six years since they were last in the top tier, but the Saudi Arabian is dreaming of the big time, despite originally targeting a takeover of a Championship club.
He said at his unveiling at Bramall Lane: "I am really passionate about sport and in particular I love English football.
"I follow the Premier League and I have always been clear that I want to be a part of the game in England.
"I had aspirations to buy a Championship club and take it to the Premier League - that was until I met Kevin (McCabe) in London.
"He talked to me about the Blades and its proud history and after another long discussion I fell in love with the club.
"I am delighted to be part of this great club and now I want to help take it back to where it belongs - the Premier League.
"Hopefully we will be successful and in time become established in the top flight of English football."
Co-chairman McCabe revealed the Blades' history was a decisive factor in persuading the Prince to invest.
McCabe said: "The Prince like myself is a sports fanatic and he is learning fast about our famous club and its red and white stripes.
"I met the Prince by chance back in January at an informal meeting in London prior to him going to watch Chelsea.
"We spoke at length about sport, football and in particular Sheffield United. I began to explain to the Prince about our proud history and heritage.
"It was a warm meeting and to myself, surprisingly led to further dialogue, which saw me educate the Prince more about the Blades.
"From there we have spent a lot of time with the Prince and his colleagues, both here in the UK and in Saudi Arabia.
"As the meetings progressed we spoke about our expectations and ambitions and our thoughts we shared by the Prince and his people.
"He is a sportsman through and through, football in particular and also the NFL. I am proud to welcome the Prince as our partner and now we can look forward to hopefully a fantastic new chapter in our history.
"This is where English football all began at Bramall Lane and we appreciate our club, now we have to help a big club to become even bigger and more successful.
"In our view the way to make that reality is to become global."