Celtic stand up for 'strong man' Petrov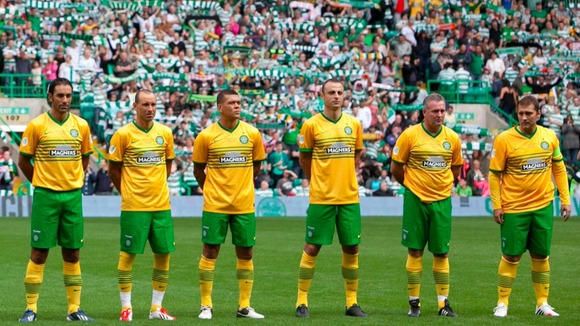 Kenny Dalglish paid tribute to Stiliyan Petrov and Celtic fans after a Celtic XI lost 5-3 to a Petrov XI in a charity match at Parkhead.
Celtic Park was almost full to its 60,000 capacity for a match arranged for the former Hoops and Aston Villa midfielder, who is in remission from acute leukaemia, with the principal beneficiaries being the Stiliyan Petrov cancer charity foundation and the Trussell Trust, who run foodbanks across the UK.
Afterwards former Celtic player and manager, Dalglish, who was in charge of the Petrov XI, said: "The support he has had, first and foremost from his family, but also from the footballing family, at Aston Villa and Celtic, has been unbelievable.
"The reception they gave him was a fitting tribute to a very strong man who is an example to everyone else who gets a bit of bad news.
"There was hardly anybody who left the ground, they were there at time-up to applaud him.
"Every time somebody at this club gets a bit of bad news the support from the fans and club is always more than generous.
"The turn out was fantastic and a fitting tribute to a really brave man.
"The harder you stand up for yourself and the stronger you are in the fight against it, the better chance you have of succeeding.
"He is an inspiration for what he has gone through. He never moaned or complained, he tried his best to get through it.
"He is a man of tremendous courage and determination and I just hope that it pays off."
Fulham striker Dimitar Berbatov helped himself to a hat-trick with further goals arriving through Martin Petrov and Westlife singer Nicky Byrne.
Henrik Larsson scored from the spot for the Celtic XI with another former Hoops striker Pierre van Hooijdonk and actor Warren Brown also on the scoresheet.
Comedian John Bishop had a penalty saved by Rab Douglas and there were also appearances from One Direction's Louis Tomlinson, Chelsea defender John Terry and Hoops manager Neil Lennon, among others.
Afterwards Petrov said: "Thanks very much. You showed the world how special this place is.
"Thank you for standing by me when I had the hardest time in my life."
Former Celtic and Aston Villa manager Martin O'Neill, in charge of the Celtic XI, added his own praise of Petrov, who he took to Villa Park in 2006.
"I seen Stiliyan a number of times and he was not in great shape and fighting strongly," he said.
"I knew the professor he was working with so I knew he was in good hands but you still have to battle through.
"I am just astonished at the reception he got. I really shouldn't be but it was absolutely fantastic and he deserves it.
"I have enormous respect for him and his generosity in every aspect of life is phenomenal."
When O'Neill was asked about the condition of One Direction star Tomlinson, who looked in distress as he was substituted after being tackled by Aston Villa's Gabriel Agbonlahor, he said: "Agbonlahor smashed into him and he picked himself up and he was ill at the dressing room area.
"He has rushed off now but I think he is fine - he doesn't know where he is but I think he is fine."
Agbonlahor said he would apologise to Tomlinson.
"It was one of those things," he said. "I'll apologise to Louis when we meet up with everybody after the game.
"I know he enjoyed playing in the game and it's fantastic that he took time out to be here, and the same with everyone else who played.
"It was a fabulous day for Stiliyan Petrov and for Celtic and their respective charities."