Jose Mourinho says Chelsea will come out fighting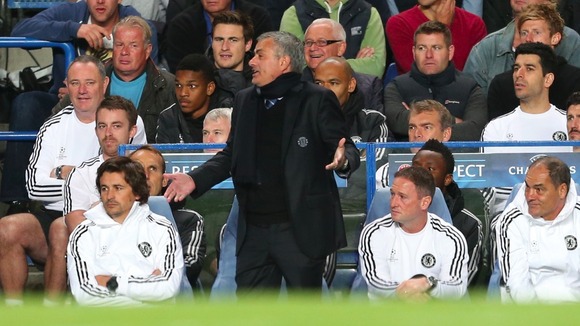 Jose Mourinho is prepared to accept more short-term pain for long-term gain as he bids to revolutionise Chelsea's style of play.
Chelsea are without a win in four games - against Manchester United, Bayern Munich, Everton and Basle - ahead of Saturday's Barclays Premier League match with Fulham and on Wednesday lost a Champions League group game at home for the first time in almost 10 years.
It is unusual territory for Chelsea and for Mourinho, the club's most successful manager following a silverware-laden first spell at Stamford Bridge.
The self-proclaimed Special One has continually talked of an alteration in Chelsea's approach and the process is one which will continue, even though owner Roman Abramovich is not renowned for his patience.
"We want to change and we're going to change," Mourinho said.
"I agree we must have better results. I agree we are not the kind of club that is going to wait two, three, four, five years to have a team.
"We have to accelerate the process, but we are not going to change.
"We want this team to play in a certain way and that's the way we're going to work."
Mourinho, who is just a few months into a four-year contract, dismissed talk of a crisis.
He said: "Crisis of what? Syria? For me, no crisis, for me two bad results."
Mourinho has been tasked with achieving results, as well as overhauling the style, something which proved too challenging for numerous managers in between his spells at the club.
"The situation is clear," he added.
"I don't like the way Chelsea was playing in the last couple of years. The club doesn't like. We want to change.
"We have the players with the profile to change. We want to play a different style.
"The past is history, even my past. I always said I'm here like I've just arrived. "I don't want to be protected because of what I did here in the past. It matters absolutely nothing."