Christian Eriksen does not want to move out of his hotel room because he thinks it might curse his good start at Spurs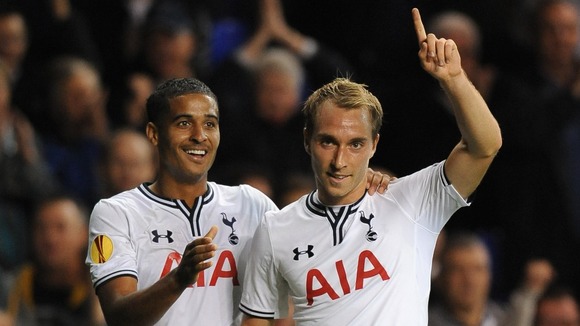 Christian Eriksen does not want to move out of the hotel he has been staying in since he moved to London because he thinks it might curse his excellent start at Tottenham.
Much of the hype surrounding Tottenham's new-look squad centred on the likes of Erik Lamela and Roberto Soldado, but Eriksen has arguably made the biggest impact of the seven new signings at White Hart Lane.
The Dane played a part in the build up to both of Tottenham's goals against Norwich on debut last weekend and he followed that up with a superb maiden strike against Tromso on Thursday.
The timing of the international break meant the 21-year-old had to report for duty with Denmark a couple of days after signing for Spurs and training has been so intense that he is yet to start house hunting properly.
But superstitious Eriksen admits he may postpone his search for a new home while things are going so well for him at Spurs.
"It has been a good first week. I am still living in a hotel so I maybe I should stay in the hotel!" Eriksen told Spurs TV Online.
"I am really excited to be here. It's a nice place and all my team-mates are nice and I'm really happy about my start.
"Scoring for Spurs is something I have dreamed about so it was nice to do it in my second game. I don't often get them on the pitch, just on the training ground."
Eriksen's addition to the team has given Tottenham a cutting edge that they lacked in their opening three games.
The Dane links midfield and attack well in the number 10 role and is equally adept at drifting wide to assist Tottenham's speedy wingers.
Eriksen is used to comparisons with high-profile stars having been branded as Denmark's next Michael Laudrup from a young age.
And Jermain Defoe this week likened Eriksen to two recent fans' favourites at Tottenham.
"He reminds me a bit of Rafa (van der Vaart), and of Luka (Modric) a bit as well," the Tottenham striker said.
"What a player he is. I think we needed someone like him.
"He is just so calm on the ball. He is a naturally-gifted footballer, and technically he is so good.
"I spoke to him after his debut and he told me he loved the Premier League because he is allowed more time on the ball when the game becomes stretched.
"It seems like he is really looking forward to the season.
"I can imagine there must have been a few good clubs after him, but he has decided to come to a great club and I know that the fans are going to take to him because he is a top player."
Eriksen is expected to make his third Tottenham appearance on Sunday as the north London club travel to Cardiff for the first of two games in three days.
There, the Dane will go head to head with former Spurs defender Steven Caulker.
Caulker had been tipped to become a Tottenham star after coming through the ranks at the club, but Villas-Boas surprisingly sold the 21-year-old to Cardiff for £8.5million.
The Portuguese explained that he had to sell Caulker because he could not guarantee him first-team football.
"He has high expectations for his career, but at Tottenham you have to compete with three other central defenders who are also of good quality so we decided for that transfer to happen," Villas-Boas said.
"Malky Mackay has given him the opportunity to play regular football and he was rewarded with an England call up, which is excellent for him.
"He is a player with immense talent."