Aston Villa boss Paul Lambert has confirmed Christian Benteke will be out for up to six weeks with a hip injury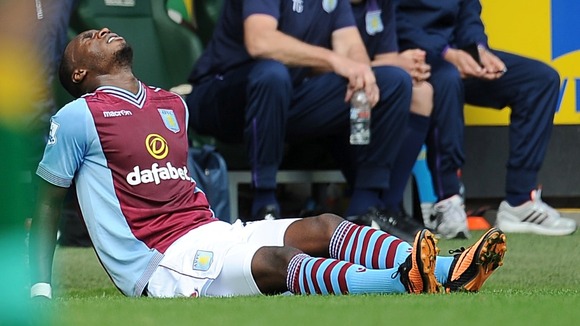 Aston Villa boss Paul Lambert has confirmed Christian Benteke will be out for up to six weeks with a hip injury.
Benteke suffered the problem at Norwich on Saturday but, speaking after Tuesday night's 4-0 Capital One Cup defeat to Tottenham, Lambert acknowledged the damage was not as extensive as he originally thought.
"It is not as bad as we feared it was going to be," said Lambert.
"Maybe four, five, six weeks or so."
Lambert confirmed Benteke would not be fit for his country's World Cup qualifiers next month.
Indeed, if the player is out for a full six weeks, he will not be available until the beginning of November.
"The medical people give you the best and worst case scenario," said Lambert.
"You are never quite sure until you hear from the professor.
"Thankfully it is not too serious.
"It has got a lot better and he is feeling a lot better and the international break certainly helps us."
The news on Benteke overshadowed a comfortable win for Tottenham, who have now kept eight clean sheets in nine games this season.
Lambert felt the eventual scoreline, following two goals from Jermain Defoe in addition to efforts from Paulinho and Nacer Chadli, was harsh on his team.
And the game hinged on a bizarre incident at the start of the second-half, when Villa were only one down.
Introduced for Libor Kozak at the interval, Nicklas Helenius got round the back of Jan Vertonghen as they chased Matt Lowton's forward pass into the box.
In his desperation to recover the lost ground, Vertonghen stumbled and as he was falling made a grab for Helenius.
The Belgian succeeded only in grabbing the striker's shorts, yanking them down to his knees just as he was about to shoot.
Helenius carried on anyway, blasting over from an acute angle.
To Lambert's disbelief, referee Jon Moss opted to give a goal-kick rather than a penalty that surely would have been accompanied by Vertonghen's exit.
"It is the first time I have seen something like that happen," said the Villa chief.
"You hope you get those decisions. I don't think anybody could believe he wasn't pulled back."
Lambert wondered whether Villa would have got the spot-kick had Helenius opted to go down rather than stay on his feet and go for goal, although he did recall a similar incident at Arsenal on the opening day of the season.
"I thought that myself," he said.
"But does it matter whether he has shot or not? At Arsenal the referee waited.
"I have certainly not seen anything like that before."
Tottenham manager Andre Villas-Boas, whilst understandably delighted with the win, admitted his side had got lucky with Vertonghen staying on.
"It was a difficult decision for the referee," said Villas-Boas.
"I can understand why Paul would not be happy with that decision.
"Most likely in this situation there is no advantage to be gained and the penalty has to be whistled.
"Probably we got away with it."
Defoe has now scored six goals this season, underlining his value to the Tottenham squad in what has been an outstanding opening to the campaign.
They do face Chelsea at the weekend though, so Villas-Boas is not getting carried away.
"It changes very quickly," he said.
"That is the nature of the Premier League and the excitement that it brings.
"At the moment it is going well for us. That always gives you confidence and motivation for the games that are coming.
"Chelsea is a different proposition. It is a very difficult game."
However, Villas-Boas was still not happy at having to play two games in three days following his side's victory at Cardiff on Sunday.
"We were always at risk from playing at Cardiff on Sunday," he said.
"Walker could have twisted his ankle in the first-half and he felt a little bit of pain.
"He got through the game OK but it was for that reason that I complained."