Andre Villas-Boas v Jose Mourinho: post game analysis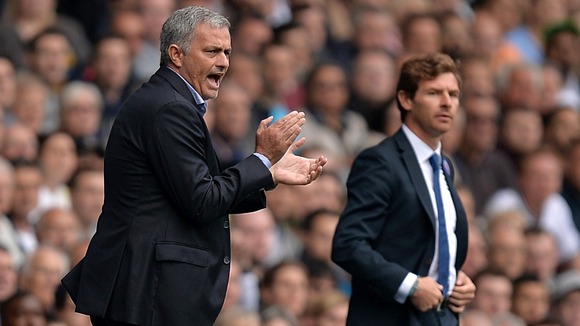 Jose Mourinho and Andre Villas-Boas crossed swords for the first time today in a match that lived up to the billing.
Having worked together for seven years before an acrimonious split, their rift dominated the build-up to what was a pulsating 1-1 draw at White Hart Lane.
Cameras were trained on the pair from the outset of Chelsea's trip to Tottenham.
Here, Press Association Sport's Simon Peach analyses the pair's on-field battle.
Team selection
Mourinho again chose to start Juan Mata from the bench, instead playing Oscar in the number 10 role. Ramires overcame a hip problem to start in midfield. Villas-Boas named the same starting line-up that beat Cardiff last weekend after Danny Rose and Aaron Lennon failed to recover from injury.
Tactics
Both sides lined up in 4-2-3-1 formations, with Villas-Boas' side dominant in the first half. Chelsea looked uninspired and were often reduced to a long-ball game. Christian Eriksen and his fellow Spurs midfielders proved a constant threat as their side won the physical battle, leading to Gylfi Sigurdsson putting Spurs deservedly ahead. Paulinho hit the post as half-time approached and Mourinho wisely made alterations at half-time. John Obi Mikel was replaced by Mata, allowing Ramires to drop deeper and offer much-needed physicality. John Terry's leveller was deserved after a sustained spell of pressure.
Man management
Villas-Boas was speaking to his players throughout, whistling for their attention from the start. Mourinho looked much more composed until Sigurdsson's strike, which led him up onto the touchline. He became increasingly agitated as the match went on, especially as tempers frayed in the second half. Mourinho was left perplexed by the decision to send off Fernando Torres, whispering in his ear before he walked down the tunnel.
Overall
Tottenham won the first-half battle, Chelsea the second. The Blues were initially unable to cope with the hosts' directness and Spurs should have been out of sight. However, Mourinho's half-time tweaks paid dividends and the equaliser was more than deserved.