Laudrup not worried by Swansea home discomfort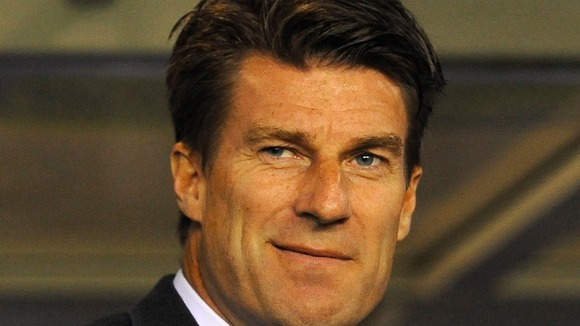 Michael Laudrup insists he is unconcerned by Swansea's poor home form in the Premier League.
Saturday's 2-1 Liberty Stadium defeat to Arsenal extended Swansea's streak without a league win on home turf to eight games.
The Welsh club's last home win was a 1-0 victory over Newcastle at the start of March, the week after they beat Bradford to lift the Capital One Cup at Wembley.
But the fixture list has not been kind to Swansea - their first three home games this term have seen them face Manchester United, Liverpool and Arsenal, and Laudrup feels there is no need for panic so early in the season.
"It is not a worry," he said. "We have already won two Europa League games at home.
"This is a new season, and we only look at this new season and see the three teams we have played here have been top teams.
"One was the reigning champion and the other two have been at the top of the league. You know games like that will be difficult.
"Of course we would like to win here and it is a little strange for us that we haven't won at home for three games, even if they were top teams, but away from home we have won two out of three.
"But I can't stop to think about that right now as we have two games this week, one in Europe and Southampton away and, to be fair, I prefer to win against Crystal Palace than Arsenal, and against West Brom instead of Liverpool or Manchester United."
Swansea face a less demanding run of fixtures in October, but Laudrup, who is currently without the injured Ashley Williams, Angel Rangel and Pablo Hernandez, does not see that sequence of games as being key in terms of kick-starting their season.
"It is a little early to talk like that," he said.
"But of course I am watching the fixtures and making programmes. I always have to look at the next game but the bigger picture as well.
"But you never know what can happen. When we won against West Brom, a lot of people said 'Swansea did well but West Brom were really poor, they will really struggle'. Now they have won at Old Trafford."
Defender Ben Davies, who turned in an outstanding individual display against Arsenal, concurred with his manager's view and does not believe the Swans are starting to feel the pinch of their additional Europa League commitments.
He said: "People were only just talking about our good run of form before this game, so I don't think we can change our opinion too much.
"I don't think Europe will be an issue for us this year. It was just five minutes of switching off that cost us in this game, a lack of concentration.
"Every side will get that five minutes in a game where they will ask questions and you have to be organised and switched on and someone has to take responsibility and make sure we stay strong and keep the ball for that time. We didn't have that here and it cost us."