A closer look at Swansea's opponents St Gallen
by Anthony Myers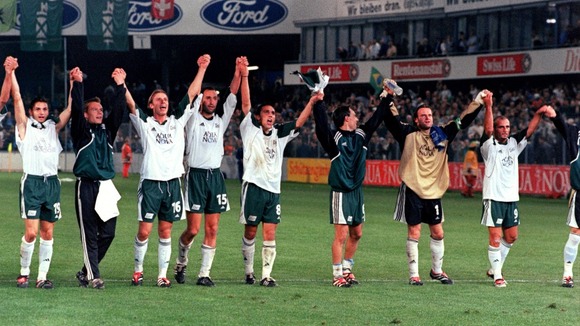 After thrashing Valencia 0-3 last time out, next up for Swansea is FC St. Gallen. The Swiss side will go into the game with lots of confidence. A 2-0 win over Kuban Krasnodar last time out saw them move join top with Swansea at the top of Group A.
With two Swiss championships to their name, St. Gallen have mostly languished in mid-table during their 134 year history.
However, their consistent mediocrity soon turned into a club of yo--yo status. Despite suffering two relegations in six years, manager Jeff Sailbene appears to have steadied the ship. A 3rd place finish last season ensured them of Europa League qualification.
Their most notable European venture includes reaching the 3rd round of the Champions League in 2000/01. They reached the 3rd round of qualifying but were to be beaten 3-4 on aggregate by Galatasaray.
One To Watch: Marco Mathys
The combative midfielder is a key part of the St. Gallen squad. Standing at 6 tall, Mathys provides a real physical presence. Although physicality isn't the only thing he excels at. His attacking capabilities are also a big element to his game.
Mathys chips in with his fair share of goals and notched one against Kuban Krasnodar in week 1 of the Europa League.
Switzerland national coach Ottmar Hitzfeld recently selected the midfielder in one of his squads but he didn't get on to win his first cap.
The 600-1 underdogs
St. Gallen are not one of those clubs which you associate with European glory, however, one night was truly glorious.
In the 2000/01 season, St. Gallen would be drawn against Chelsea. No one gave them a chance, and when the English team won 1-0 at Stamford Bridge, everyone's early predictions looked pretty solid. But the team dubbed as the "600-1 underdogs " had other plans.
A plucky and resolute St. Gallen managed to defy those odds by beating the English team 2-0 in the second leg. The Swiss side's shock victory emanated throughout the football world. The name of FC St. Gallen will live long in the memories of Chelsea fans.