It's time for Joe Hart to show what he's made of for Manchester City and England
by Will Unwin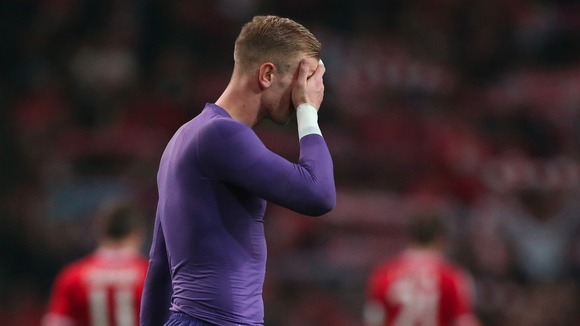 We all have the odd bad day at work – one can forget to send an email or accidentally punch the boss in the face, but when your errors are highlighted in front of millions, it's harder to get away with it.
Recently Joe Hart has come in for immense scrutiny after making a collection of mistakes for both club and country at the start of this season and towards the backend of the last.
His high profile errors against Bayern Munich on Wednesday night come just one year after keeping the Borussia Dortmund blitzkrieg at bay at the Etihad, which shows how things can change in the highly-charged world of top-class football.
Sadly, however good one is, these costly cock-ups can no longer be passed off as one-time things, as the list is starting to mount, and Hart's statistics are becoming comparable to those of a No.1 in a relegated side.
Hart made two errors against Bayern
The lack of pressure placed upon Hart, caused by a fundamental absence of competition at Manchester City and within the England set-up is consistently cited as one of the key reasons for his drop in form. Now, however, Fraser Forster is earning rave reviews in the Champions League following his performance against Barcelona, but Roy Hodgson seems unwilling to play a man who coasts through Saturdays in the uncompetitive Scottish Premier League.
It's fair enough to say Hart's issues come from a mixture of poor decision-making and lapses in concentration. But surely the best goalkeepers maintain high standards whatever his environment, something he will need to quickly rectify if he is to continue being selected.
As a youngster at City, Hart was known to be arrogant following a promising start to his time as No.1 at Eastlands, ousting the more experienced Andreas Isaksson as Sven Goran Eriksson's first choice. But Shrewsbury-born stopper had matured after losing his place to Shay Given under Mark Hughes and spending a season in between the sticks for Birmingham.
For long periods Hart received constant praise for his shot-stopping and thought process as a goalkeeper - something he should be able to easily recover - with criticism reserved only for his low-quality distribution.
A James Morrison shot embarrassed the keeper at the start of the season
His role as England's undisputed No.1 has seen his stock rise, as some people find the 6ft3 blonde goalkeeper attractive, making him a suitable face (and hair) for certain products. This level of 'celebrity' is something a sportsman has to cope with nowadays, and is being harshly attributed as one of the reasons for Hart's relative downfall, as it is irrelevant.
Hart is now facing a potential crisis of confidence and competence. The question for his two managers and himself is how to deal with it. Calls for him to be spend time out of the firing line have become louder, but playing Costel Pantimillion could further dent the pride of the potentially world class Hart, meaning Pellegrini is likely to stick with him for the foreseeable future. At the same time, Hodgson has two crucial World Cup qualifiers coming up against Montenegro and Poland, meaning he is highly unlikely to drop his ever-present keeper for the untested at international level Forster.
The England boss backed his keeper upon announcing the squad for the upcoming qualifiers, he said: "I believe that Joe will shrug this off, I'm sure that he's not happy with the criticism and he's not happy to have let in goals that he thinks he might have stopped. As far as I'm concerned he's never let me or the team down in the time I've been working with him. I have every confidence and every faith in him that he will have the confidence to put this behind him."
Hart almost cost England dearly in Poland
All this adds up to a crucial few weeks in Hart's career. Continuing his steady downwards trend could potentially see him cost his country an automatic place at the World Cup, and his club a place in the Champions League knockout stages.
Even Hart's harshest critics, however, know that he has the ability and mentality to reach the very top of the game (if he's not already there). It's time for Hart to prove to himself that he can cope with the downs as well as the ups.