Chelsea manager Jose Mourinho: We lack winning mentality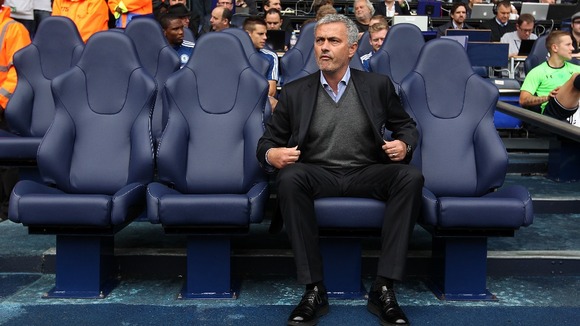 Jose Mourinho is attempting to transmit his own winning mentality to his Chelsea players.
Mourinho has won championships in four countries, including during his first spell at Chelsea, and believes that winning the 2012 Champions League and 2013 Europa League merely papered over the cracks of an inconsistent team with a mental fragility.
"I keep saying the day I lose a match and go home with a smile on my face, goodbye. Finished," Mourinho said.
"We know we cannot win every game. We know we cannot win every competition, but we have to play every game of every competition to win.
"If you do that and you lose, don't go (home) with a smile on your face, but you'll sleep fine. Because you'll know you had the right approach, you gave everything.
"The opponent won because the opponent was better than you and that is something you have to accept without being a drama. The right mentality we have to find."
Mourinho knew it would take more than a flick of a switch to turn Chelsea into serial winners.
Despite some impressive one-off results, Chelsea finished sixth in the 2011/12 season, 25 points behind champions Manchester City, and third last term, 14 points adrift of Manchester United.
He said: "If you see the position of Chelsea in the last leagues and the difference of points from Chelsea to the champions, you can imagine that even with a magic click - that I don't have - it's not easy to recover 20 points. It's more than one click.
"For a club like us it's not good to be 15, 20 points behind.
"We need to win seven matches 1-0, not win one match 7-0 and lose the other six, or lose points.
"This is the kind of mentality that you have to build. And it's much more difficult.
"I had a team of players in the best moment, potentially, of their career (in his first spell as boss). I needed a click to make them believe. At this moment in terms of building a team, the task is different."
Chelsea have won the league title once since Mourinho's September 2007 departure, in 2009/10 under Carlo Ancelotti, who left the following season after finishing second, nine points behind Manchester United.
Mourinho believes the title race is open this term and that his side are one of six teams capable of winning, but first he has to change their mental approach.
The Portuguese, whose side play at Norwich on Sunday, added: "We need to be more consistent. I don't think we are strong enough at this moment to have that kind of run of victory, victory, victory.
"We will, for sure, we will. In this moment I don't think we are."