Hillsborough inquests set for March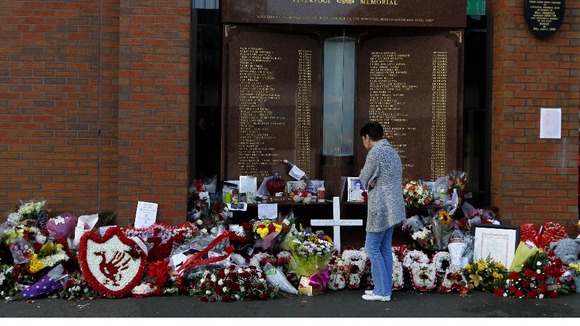 The coroner overseeing new inquests into the deaths of 96 victims of the Hillsborough disaster has reassured their relatives that he remains "committed" to ensuring they start next spring.
Lord Justice John Goldring told a packed out final pre-inquest hearing of his intention for the inquests due to be held in Warrington, Cheshire, to go ahead on March 31 as scheduled.
Before proceedings started, victims' relatives attending the hearing at a central London hotel told reporters that after waiting 25 years for justice they would be opposed to any delays.
The hearing heard that the materials involved in the inquest were "unprecedented in terms of scale and complexity" and new documents would be made available right until the last moment as investigations into the disaster were still ongoing.
But the coroner said: "I certainly remain committed to that date (March 31) and it is partly for that reason that I have sought, obviously through those who are helping me, to drive those investigations forward as much as I can.
"I shall not cease, so that it is absolutely clear, to seek to drive these investigations onwards as much as I conceivably can."
Britain's worst ever sporting disaster happened at Sheffield's Hillsborough stadium on April 15 1989 during Liverpool's FA Cup semi-final against Nottingham Forest as thousands of fans were crushed on the ground's Leppings Lane terrace.
Last December, verdicts of accidental death from the original Hillsborough inquest in March 1991 were quashed.
The action was taken after the Hillsborough Independent Panel studied thousands of documents and reported that there had been a huge cover-up of what happened at Hillsborough and its aftermath.
Lord Justice Goldring had already decided to hold the inquest in Warrington after hearing conflicting arguments at a preliminary hearing earlier this year in support of holding the hearing in either the North West or London.
Many family members were present at the final pre-inquest hearing, where hotel staff had to make additional seating available to accommodate them all.
The hearing was told that jurors are likely to be taken to Hillsborough when the inquests gets under way in order to give them a better knowledge of how the disaster unfolded.
It also heard that the BBC had agreed to release previously unseen footage from the disaster.
Counsel to the inquests Christina Lambert QC said that reports into whether lives could have been saved if things had been done differently should be shown to the relatives of the victims first and other interested parties later.
Discussing the inquests' timetable, Lord Justice Goldring said he was leaning towards them sitting five days a week so the process does not "go on and on".
He also stated that they would be non-adversarial and warned of the need to guarantee that "wholly dispassionate views" would be heard.
Michael Mansfield QC, representing a large group of victims' families, expressed their "gratitude" for the coroner's intention to ensure the inquests start on March 31.
Pete Weatherby QC, representing 21 victims' families, told the hearing that handheld footage filmed by police at Hillsborough might have been edited, according to an expert who looked at the images.
He asked for an audiovisual expert to be among those to give evidence to the inquest to ensure that the best possible copies were shown to the jury.
There was anger among relatives of the victims as Christopher Daw QC, speaking for retired chief superintendents Terry Wain and Donald Denton, asked for them to be represented as interested persons at the inquests.
When Mr Daw pointed out that both men are now in their 70s there was a sigh from the public gallery, with one woman saying out loud: "What about the parents who are in their 70s? Disgrace."
Mr Daw was cut short by the coroner as he argued that there had been no "cover up" by his clients.
Lord Justice Goldring said: "I don't think this is the time to go into a speech about that."
The coroner granted both retired officers' application to be represented separately at the inquests.
Richard Whittam QC, representing the Director of Public Prosecutions, told the hearing that a beefed up team was considering whether criminal charges should be brought in relation to the disaster.
"Nobody should doubt the intellectual rigour that will be brought by the Director of Public Prosecutions to evidence considered by the Crown Prosecution Service," he said.
"There is a dedicated team looking at prosecutions should they be appropriate and lawful.
"Should there be sufficient evidence to bring prosecutions it is likely that any and every legal challenge will be met along the way.
"The Director is clear that nothing should be done which is a bar to future prosecutions."