Inter Milan ultras come out in support of AC Milan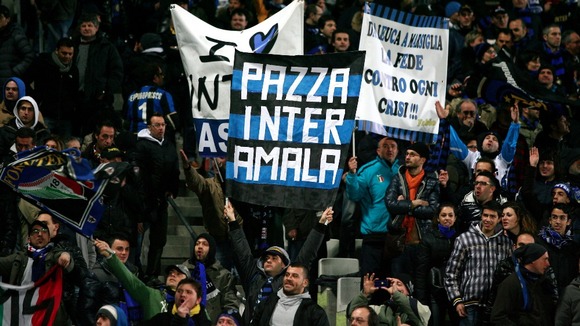 Inter Milan's 'ultras' have come out in support of AC Milan after a decision was taken to close the San Siro for one game following discriminatory chanting by Rossoneri fans.
Inter's hardcore Curva Nord supporters' group has urged followers of all teams to continue chanting songs aimed at their rivals in a bid to get all Serie A stadiums shut down for a weekend, which it believes would highlight the "outrageous attempt to impose an alien conformism" on supporters by the league.
The Serie A judge ruled earlier this week that Milan must play their next home league game against Udinese on October 19 behind closed doors, and fined the club 50,000 euros (£42,300), after finding them guilty of chanting "an insulting chorus expressing territorial discrimination against supporters of another club".
Sections of the Milan support could be heard singing "We are not Neapolitans" during their away match against Juventus on Sunday, reflecting the long-standing enmity between the north and south in Italy.
AC Milan reacted angrily to the sanction and immediately announced their intention to appeal, and they now have an unlikely ally after the Curva Nord released a lengthy statement supporting its bitter rivals and calling for widespread action.
In its statement, Curva Nord said: "We are ready and we hope that all the fans in every Curva take part in discriminatory chants in order to achieve a Sunday with total closure of the stadiums.
"We reserve the right to make decisions co-ordinated with other fans, ultras, supporters from the other team in our city, with our twinned teams, our historic rivals, and anyone who understands this outrageous attempt to impose an alien conformism upon us."