Frank Lampard desperate to avoid a repeat of Wembley heartbreak against Croatia in 2007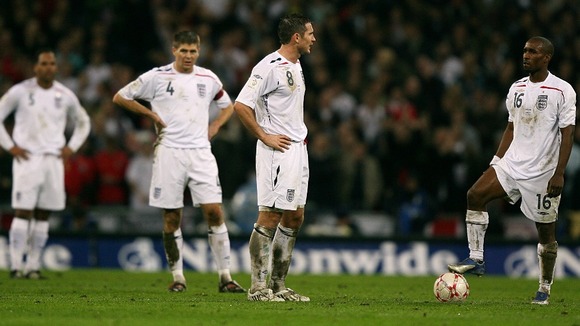 Frank Lampard is desperate to avoid another night of qualification heartbreak on Tuesday when Poland head to Wembley.
England retained top spot in Group H on Friday with a 4-1 win over Montenegro, but they still have to beat the Poles in their final game to qualify for the World Cup - assuming, as all do, that Ukraine beat San Marino.
Lampard is no stranger to do-or-die qualifiers. He was part of the England side that capitulated against Croatia on a soggy night in November 2007, costing the team a place in Euro 2008.
Lampard scored England's first goal from the penalty spot, but the home side were already 2-0 down by that point and Mladen Petric then drove a dagger in to Steve McClaren's reign with a second-half strike that gave Croatia a 3-2 win.
Unsurprisingly, it is an evening that Lampard does not remember fondly.
"I try not to think about that night too much," the midfielder said.
"You remember the bad nights as much as the good ones."
Unlike that miserable rain-soaked night six years ago, England do at least have a safety net to count on come Tuesday night, for even if they lose to Poland, they will be guaranteed a place in the play-offs.
But even though England would be seeded, they could face France, who are second behind Spain in their qualifying group.
There is, therefore, a desire from within the squad to get the job done on Tuesday.
Among the players in and around the England camp, Lampard is one of the most eager to book himself on that plane to Brazil.
The Chelsea midfielder will, after all, be 36 by the time the World Cup starts and he knows he will never get the chance to play again in Brazil - a place he clearly fell in love with when England played there in June.
"Brazil is one of the homes of football," Lampard said.
"We believe we are the home of football, but you have to admire their history and the flamboyance they have over there.
"We played there in the summer and you could feel the magic around the place.
"If you are playing for your country you want to be at the World Cup there and that's why it's a huge game on Tuesday.
"There is a lot of desire. Me and Stevie (Gerrard) have been here a long time and I think that is pushing us on."
Poland, just like Croatia in 2007, head to Wembley with nothing to play for.
Their dreams of World Cup qualification ended on Friday with a 1-0 defeat to Ukraine, who are one point behind England with a straightforward game against San Marino to come.
Lampard still expects the Poles to put up a good fight, however, as they possess players like Borussia Dortmund striker Robert Lewandowski, who is regarded as one of the best talents in Europe.
The prospect of winning their first game at Wembley will be another incentive for Waldemar Fornalik's side, but Lampard is still confident of winning.
"I believe we will hold our nerve," said Lampard, who earned his 101st cap on Friday.
"I would like to think now we have the confidence and the threats we have going forward that we can make it a different night (to the Croatia one).
"Everyone loves playing at Wembley and they have some big-name players in their team so they will want to come here and put on a show regardless of whether they have qualified or not.
"They will be relaxed and we have to make sure we have the extra edge as we need the win to go to Brazil. We need to come out firing on Tuesday no matter what they do."
Lampard was impressed with the performances of debutant Andros Townsend and Wayne Rooney against Montenegro.
He also praised manager Roy Hodgson for defying his critics by going with an attacking formation.
"I don't always agree with the idea that he is too cautious," Lampard said.
"There are moments in games where you have to play with a head.
"People said Jose Mourinho was cautious when he first came to Chelsea and we used to beat teams regularly by four and five."