The Football Association will investigate crowd trouble at FA Cup clash between Atherstone and Barrow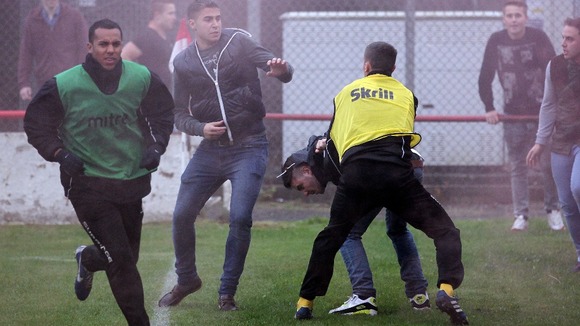 The Football Association will be contacting both Atherstone Town and Barrow for their observations on the trouble which marred Saturday's FA Cup third qualifying round tie at Sheepy Road.
With Atherstone trailing 4-0 at half-time to the Conference North side, a group of around 30 home supporters ran across the pitch and aggressively entered a section of the ground containing Barrow fans.
It emerged that one supporter managed to get as far as the Barrow dressing room door, where he threatened a player. One elderly supporter was injured and reported by bystanders to have been left bloodied, while Barrow substitute Greg Mills, out on the pitch during the interval, was seen tussling with an Atherstone fan after being confronted.
A flag belonging to the Barrow supporters was taken during the half-time altercation by Atherstone fans, who attempted to burn it.
The match was held up, with the start of the second half delayed by more than 10 minutes.
It finished 4-0 in Barrow's favour, with a number of away supporters seen departing soon after half-time.
On Saturday night, Atherstone Town's board of directors issued a statement condemning the "behaviour of a small minority of mindless idiots" which had "ruined.. what should have been a great day" for the St Mary's Hospice Midland Football Combination club.
Press Association Sport understands the FA will on Monday begin its review of the incidents, which will start with contacting both teams and also take in reports from match officials, as well as information from the local Warwickshire police.
Atherstone Town's statement added the club are to co-operate with the authorities in a bid to identify and prosecute the troublemakers as they look to "rebuild our good reputation".
The statement concluded: "We unreservedly apologise to any fan who had to witness the totally unacceptable scenes and behaviour.
"Although the Barrow directors, management team and most supporters understood that it was a mindless minority, Atherstone Town would like to apologise and of course, wish them well in the next round and for the rest of the season.
"This is not what Atherstone Town stand for nor operate as a club."