QPR manager Harry Redknapp says "the sky's the limit" for Spurs winger Andros Townsend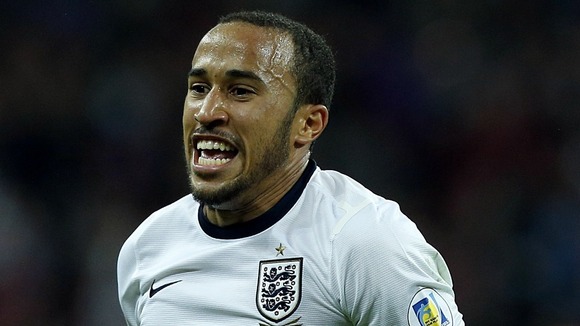 Harry Redknapp was overjoyed at Andros Townsend's stellar England debut and believes the Tottenham winger is capable of anything.
Townsend was influential in England's 4-1 win over Montenegro on Friday night which means victory over Poland on Tuesday evening at Wembley would secure a place at next summer's World Cup finals in Brazil.
Redknapp worked with the 22-year-old at Spurs before helping him to flourish in the Barclays Premier League during a spell at QPR last term, one of nine loan spells for the winger.
The 66-year-old QPR boss believes Townsend is the closest player England have to Holland wing wizard Arjen Robben.
"If he can keep improving, I think the sky's the limit," Redknapp told Press Association Sport.
"It's up to him now. He's got a great chance.
"Andros is not Arjen Robben; he's not in his class at the moment, but he's very similar.
"He plays on that right side, likes to come in on his left foot when he can, he runs with the ball, he beats defenders, he tests the full-back."
What Townsend was lacking, until his spell at QPR, was sustaining strong performances.
"We loaned him out an awful lot because he couldn't get that consistency," Redknapp said.
"He'd have a great spell for four or five games with a club and then his form tended to dip a bit.
"I brought him to QPR last year and he sustained that run of form throughout.
"That was the making of him. He proved he could play Premier League football week-in, week-out and could do it consistently well."
Redknapp expects England to reach the World Cup and to do well.
"I don't have any doubt that we'll get there and I think when we get there we'll be really competitive," Redknapp said.
"I still feel we've got the ammunition to go out there to cause anybody problems.
"In Brazil (in June) we drew and we could have easily beaten Brazil that day."
Redknapp was spoken of as a possible successor to Fabio Capello before Roy Hodgson's appointment in May 2012 and did not hide his desire to take the position.
Managing England in future is no longer an ambition, with Redknapp optimistic that, by the time Hodgson moves on, there will be numerous young English candidates for the role.
"I wouldn't see that as a goal," Redknapp said.
"I think Roy will do a good job and I don't see any reason why he shouldn't keep the job for the next few years.
"Then hopefully another young English manager will come through the system somewhere and take the job when Roy's finished with it.
"I'd love to see another English manager after Roy's finished.
"There's got to be another young guy who deserves the opportunity.
"Let's hope we can produce plenty of English managers on the conveyor belt for years to come."
Townsend's impact at Loftus Road was one of the few bright spots of a tumultuous first six months at QPR which finished in relegation.
A summer squad overhaul has given the ever-bullish Redknapp cause for optimism, with unbeaten Rangers second in the Sky Bet Championship following eight wins from 10 games.
Redknapp said: "I didn't feel that group could possibly bring us back up; I thought we'd have no chance.
"The boys I brought in have been fantastic. It's a different football club. It's a much, much nicer atmosphere around the place."
Over 30 years of management are documented in Redknapp's autobiography 'Always Managing'.
The low point was the tax evasion court case which lingered until his acquittal at Southwark Crown Court in February 2012.
He finds it difficult to select a highlight.
"I started out at Bournemouth and absolutely loved it there," said Redknapp, who guided the Cherries to promotion to the second tier.
"I had a great time with that group of players there. They were amazing days."
He mentions his spell at West Ham and two spells at Portsmouth, the second of which featured a FA Cup win, while omitting his move along the south coast to Southampton.
Redknapp said: "I made one or two bad decisions. When I left Portsmouth to go to Southampton I didn't realise the rivalry between the two clubs.
"That was definitely something that I dived into without giving too much thought."
Redknapp does not know how long he will carry on, but he remains ambitious.
"I don't feel any different to 20 years ago," he said.
"I enjoy coming into work every day and being around footballers.
"I'd love to get back into the Premier League next year with QPR. That's my dream."