England player ratings for the whole of the World Cup qualifying campaign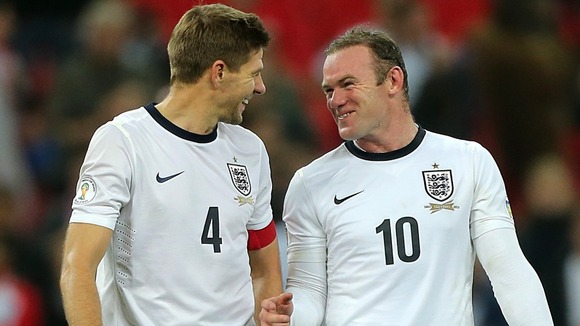 Roy Hodgson can allow himself a smug smile of satisfaction.
It has not always been easy but Tuesday night's victory over Poland at Wembley completed an unbeaten World Cup qualifying campaign and, more importantly, sealed a place in Brazil next summer.
Here, Press Association Sport assesses the contribution of the men who did the job.
JOE HART: (Ten appearances, 0 goals). Ever present and still England's number one but Hart's position is nowhere near as secure as it once was. 7.
KYLE WALKER: (5, 0). After a false start to his international career, Walker is now starting to show the consistency he lacked before. Still gets caught out of position on occasion but useful performer. 7.
GLEN JOHNSON: (4, 0). Has been a first choice when fit but sidelined for this season's games. Can be relied upon defensively, so unlikely to be jettisoned. 7.
ASHLEY COLE: (4, 0). Showed with his performance against Ukraine last month he remains one of the outstanding full-backs. Fitness can no longer be relied upon though. 7.
STEVEN GERRARD: (8, 2). Are we counting down to the end of a fine international career. Has blossomed from box-to-box man to England's guiding force. Got the final goal and will be key man in Brazil. 8.
GARY CAHILL: (5, 0). The worry for Cahill would be whether he can remain a key component of Jose Mourinho's squad at Chelsea. If the answer is yes, he is a cert. 7.
PHIL JAGIELKA: (7, 0). New breed centre-half who goes about his business with quiet efficiency and has struck up an excellent understanding with Cahill. 7.
THEO WALCOTT: (4, 0). Still frustratingly inconsistent at times but explosive pace can create huge problems for any defence. A key attacking weapon. Won't be axed as in 2010. 7.
FRANK LAMPARD: (7, 4). Bounced back superbly after missing Euro 2012 through injury. Remains as influential as ever and capable of scoring crucial goals. 8.
RICKIE LAMBERT: (2, 1). Emerged from nowhere to become England's attacking spearhead last month. Excelled against Moldova but Lambert was isolated and ineffective in Kiev. 7.
JACK WILSHERE: (3, 0). Disappointed in Ukraine but has an inventive spark England will need in Brazil. Hodgson will hope he stays fit. 7.
JAMES MILNER: (8, 1). Provides game discipline not as readily available to Hodgson as it should be. Milner's flexibility makes him important although games for Manchester City may be limited. 7.
DANNY WELBECK: (8, 4). Has happy knack of scoring for England and has more to his game than many think. Can lead attack, drop deep or play wide. He will go. 8.
JOLEON LESCOTT: (5, 0). If he plays regularly for Manchester City may well get his place back. But as it presently stands he requires an injury or two to get on the plane. 6.
CHRIS SMALLING: (3, 0). Offers flexibility at the back, where he can operate both centrally and at full-back. A one-time Hodgson signing, progress stalled through injury. 6.
WAYNE ROONEY: (6, 7). Not properly fit in 2006 and 2010, Rooney's time is now. Needs to prove on the biggest stage all those forecasts for his future were correct. 9.
ALEX OXLADE-CHAMBERLAIN: (5, 2). One of those on the cusp. International class on his day and well used at Euro 2012 but sidelined too often. 6.
JERMAIN DEFOE: (4, 3). Goal-poaching prowess likely to earn squad selection, if not a place in the actual team. Has lots of experience and last man to score winner for England in World Cup Finals game. 6.
ASHLEY YOUNG: (3, 1). Hodgson is not blessed with quality wide-men so hope of making the squad remains. Must do better at Manchester United first. 6.
TOM CLEVERLEY: (7, 0) Did appear to be one of Hodgson's favourite players. Coach has torpedoed that suggestion but still gets picked despite army of critics. 8.
LEIGHTON BAINES: (7, 1) Began the campaign with his first international goal. Has impressed to such an extent Cole's absence is no longer viewed as a catastrophe. 8.
MICHAEL CARRICK: (6, 0). Coaxed out of retirement post Euro 2012, then not used so much. Won't want a repeat of unhappy experience in South Africa, when he didn't feature for a single minute. 7.
DANIEL STURRIDGE: (4, 2). Got a new lease of life at Liverpool and on present form cannot be overlooked. Link with Rooney untested however. 7.
JOHN TERRY (1, 0). Started the opening game of the campaign in Moldova. Injury ruled him out of the second match of the double-header before announcing his international retirement amid some acrimony. 6.
ROSS BARKLEY: (1, 0). Has burst through at just the right time and though lacks experience, if he keeps his place at Everton, he will do the same for England. 6.
LEON OSMAN: (1, 0). Flavour of the month for a short while at the start of the year but now eclipsed by club mate Barkley. 5.
SCOTT PARKER: (1, 0). Player of the year in 2011, first choice at 2012. Even Parker thought it would be his last major tournament. Barring big shock it will be. 5.
AARON LENNON: (1, 0). Has been on fringes of squad for a long time without ever properly breaking through. With Andros Townsend preferred now it seems chance has gone. 5.
ANDY CARROLL: (1, 0). Another whose international career has stalled due to injury. If fit he would offer something different as he proved at Euro 2012. It is a big if. 6.
JONJO SHELVEY: (1, 0). One substitute appearance against San Marino in October 2012 does not suggest Shelvey is going to make the cut. 5.
RYAN BERTRAND: (1, 0). Not playing regularly enough to suggest he could be anything but a fill-in should either Ashley Cole or Leighton Baines suffer an injury. 5.
ANDROS TOWNSEND (2, 1). Excellent early-season form at Spurs earned him a call and responded brilliantly against Montenegro. Consistency is the key now. 8.