Djibril Cisse: 10 strange facts about the former Liverpool striker set to face Swansea in the Europa League
by Liam Coleman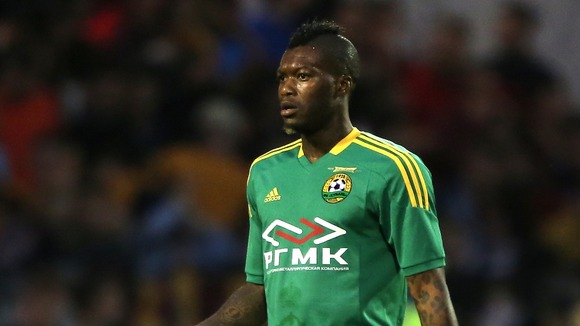 Swansea come up against former Liverpool and QPR striker Djibril Cisse when they take on Kuban Krasnodar in the Europa League this week.
The Russian side's number nine is most famous with British fans for his colourful hair, but his life story makes that seem all rather ordinary.
Here, we bring you ten facts about Djibril Cisse that you probably didn't know... until now!
1) He is the youngest of, former Ivory Coast captain, Mangué Cissé's seven children.
2) For his wedding in 2005, he wore a tuxedo, suit and trilby in Liverpool red colours.
3) He has been Lord of the Manor of Frodsham since 2005. After moving to Liverpool, the Frenchman purchased the Cheshire town's manor house. He has since outraged locals by banning the hunt from riding across his nine acres of land; "I don't care what they thought about me - I'm an animal-lover," he told The Guardian.
4) The forward makes a guest appearance in a high speed driving scene in French action film, Taxi 4.
5) Despite part owning a Vineyard in Bordeaux, the Frenchman is teetotal. "They tell me the wine is really good but I have never touched a drop. I never touch alcohol. And I never smoke. I'm scared that I will like it too much," Cissé admits.
6) He has more than 40 tattoos. They include two on his head and a pair of wings that stretch across his back, in reference to the Arabic of his name, Gabriel.
7) Whilst at Sunderland, Cissé opened a clothes shop, called Project Fashion Botuique. This became a popular haunt for Kenwyne Jones, Obafemi Martins and Justin Hoyte.
8) His favourite hobby is fishing; he regularly went fishing with Grant Leadbitter while he was at Sunderland.
9) The French striker's children from his current marriage are called Cassius Clay, Prince Kobe and Marley Jackson.
10) Cissé threw himself a farewell party, complete with him DJing, when he left Panathinaikos. Two years later, Montpellier chairman Louis Nicollin dismissed interest in the Frenchman by flatly stating, "I don't want a guy who plays DJ in bars."
Watch Cisse scoring for Liverpool against Anderlecht in the Champions League back in 2005:
Watch Swansea v Krasnoda live on ITV4 on Thursday 24th October at 20:05