Why Man United must keep an eye on Sociedad's Antoine Griezmann at Old Trafford tonight
by David Cartlidge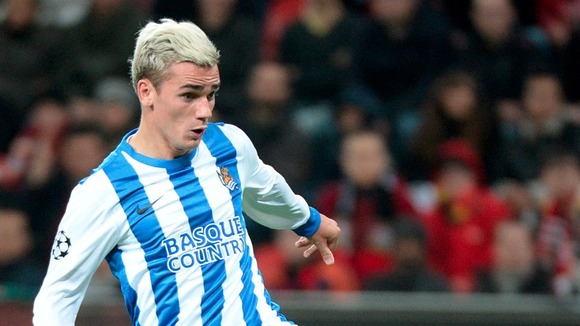 He's still serving an international ban after a rowdy night out in Paris, but Antoine Griezmann is determined to carve himself out a better reputation. Man United best be aware.
Dyed blonde hair, a charismatic off field persona and even his own hash tag on Twitter - Griezmann these days backs them all up and more so. At the weekend he lifted his ailing Real Sociedad team up with a piece of individual quality, and is hopeful of sparking a revival in their ranks with his electric presence. His focus is solely on la Real after being handed a ban by the French FA, and it won't be until December that he returns to their setup.
"We're going there [Old Trafford] to win. We're not going to Manchester to be tourists," Griezmann declared after a 0-2 win over Valencia at the weekend. The Frenchman is no shrinking violet that's for sure and such declarations only show the confidence of the young man.
This after all is a player who left his home land of France at just 13-years-old, and his confidence remained despite teams up and down the country telling him he was too small. Lyon, Marseille, Bordeaux - they all told Griezmann he didn't have the physical attributes to make it at the top level. Their loss was Real Sociedad's gain and on Tuesday evening he'll be at the very top level - the Champions League. His mission since the rejection back in France has been to prove everyone wrong, to iron out the kinks in his game and be the very best.
He was schooled in the grounds of Zubieta, the famous youth academy located in the Basque Country. Xabi Alonso and Mikel Arteta are just two names to pass through those doors, while Asier Illarramendi made a €38m move to Real Madrid just this past summer. Griezmann wants to be the next success story and will stop at nothing to achieve it. His rise has been rapid, constantly thrown in at the deep end and told to perform.
In 2009 he debuted with the Spanish side, featuring as a substitute before regularly appearing across the course of the season as an impact sub before nailing down a first team slot.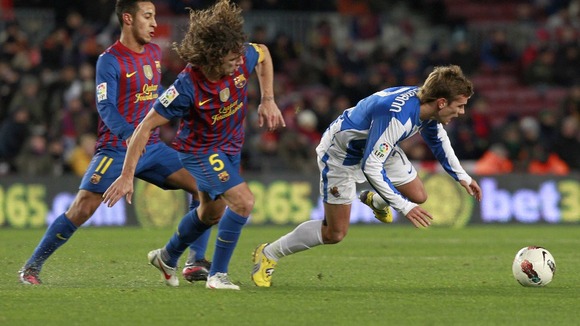 He's got all the attributes of a classic winger; bags of pace, skill in abundance and a penchant for hurting full-backs. He has a goal scoring touch too, with the ability to strike from distance and poach from inside the area. A starring performance against Real Madrid a few years ago caught the attention of everyone, as he humiliated the then No 1 Spanish right-back Sergio Ramos and had the whole of Anoeta on their feet.
Since then he's progressed well, in time becoming a more grounded character with a mature approach to his footballing career. Griezmann used to have a fondness for talking himself up and fluttering his eyes in the direction of the big clubs, but for a while now he's been focused on his football and that alone. Asked by former coach Phillipe Montanier to take up a central role in attacking midfield, Griezmann was enthused and showed how versatile his game is. The vision and reading of the game that perhaps hadn't been so much on show in a wide role, was evident as he motored through the middle.
Along with centre-back Inigo Martinez and ex-Arsenal man Carlos Vela he's been at the forefront of the revolution at this young, hungry and potential filled Real Sociedad side. It's disappointing then they're yet to get any points on the board in the Champions League this term, but they remain confident of changing that at Old Trafford. The Theatre Of Dreams is the sort of stage Griezmann has longed to play on and he doesn't wish to waste it.
In a similar manner to most pop stars these days, the 22 year-old has a name for his Twitter following, with 'Team Grizi' supporting him every time he plays. Like a good pop song too, Griezmann is infectious, he sticks in the memory when playing. His aim is to go to the top of the charts, and United are just another team in his way.