Former Man United striker Michael Owen backs Wayne Rooney to break his international goalscoring record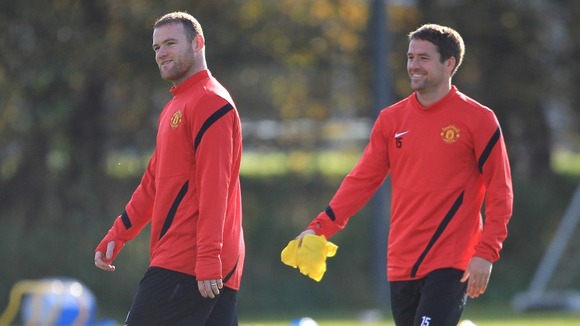 Former England striker Michael Owen has backed Wayne Rooney to beat his goalscoring record at international level and believes the Manchester United forward could play a major role in the World Cup next summer.
Owen sits fifth on England's all-time goalscoring list having notched 40 international goals in 89 appearances for the senior international side.
The 28-year-old Rooney has three less caps than Owen to date and sits just behind him on the goalscoring list, currently with 38 international strikes to his name.
But Owen, who retired at the end of last season following spells with Liverpool, Real Madrid, Newcastle, Manchester United and Stoke, believes he will soon be overtaken by Rooney.
"It is no question," he said at the Football Association's 150th anniversary gala.
"With the way he is playing at the minute, he is scoring goals and even in a team in Manchester United, who are not firing on all cylinders, he is a stand-out player every week so it is great to see and long may that continue."
Despite having been a key player for England almost ever since his debut as a 17-year-old in 2003 Rooney has never had a successful World Cup outing and has no goals in the tournament finals to his name.
Owen feels his former United team-mate can change that in Brazil next summer after he lost his place as England's talisman to Rooney.
"He had a big, major tournament in Portugal [Euro 2004] when I played alongside him," Owen added.
"I went in to the tournament as the main England striker and probably came out of it firmly in my place because Wayne had taken off.
"It was role reversed. He certainly sparkled in to life and that tournament and we know he can play on the big stage. I'd love to see him, and we need to see him, playing well at the World Cup and I think he will."
England qualified for Brazil as group winners following a campaign which ended undefeated for Roy Hodgson's side.
Owen feels the group may have been closer than a lot of people may had anticipated but was delighted with the way the team played in the final two qualifiers at home to Montenegro and Poland.
"Qualification was a bit of a struggle," he said.
"I don't think everyone was 100 per cent confident right the way through the group but we got there in the end and we got there convincingly.
"The last two games were really, really good and I was really impressed with the team the manager picked in the first place and then with the way we played.
"It was the first time in quite a while I have thought 'we are going somewhere here' and it was good to see."
Despite not wishing to make claims that England would leave Brazil next summer with the World Cup trophy, Owen reckons the performances of the majority of young players being blooded by Hodgson can only bode well for the future.
"I think we are on an upward course definitely," he said.
"We have got some young players, players with pace and goals in the team. You look at the team and even the full-backs can score goals now, you need to score goals in international football.
"We shouldn't be getting carried away, it was only a couple of games against a team you would expect to be beating - it is something to build on."