Ravel Morrison tipped to become a future England hero by West Ham team-mate Joe Cole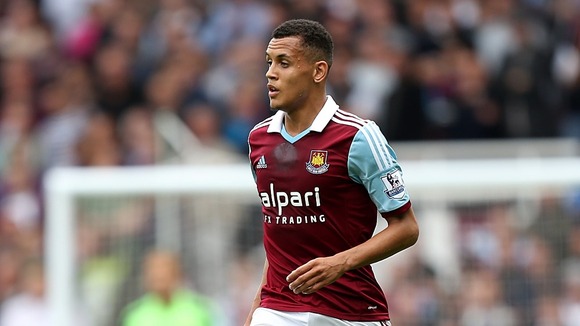 Ravel Morrison has been backed to become a future England hero by West Ham team-mate Joe Cole.
The 20-year-old midfielder has started the season in scintillating form and has earned his first England Under-21 caps, scoring twice in the recent 5-0 demolition of Lithuania at Portman Road.
The former Manchester United youngster had been better known for his misdemeanours away from football but has settled well into the Hammers first-team squad this season under Sam Allardyce following a loan spell at Birmingham last year.
Cole, 31, burst on the scene as a similarly precocious talent at Upton Park under Harry Redknapp and followed that up with an early call-up to the international stage.
He made his England debut as a 19-year-old and also travelled with Sven-Goran Eriksson's squad to the 2002 World Cup in Japan and South Korea, making one appearance in the finals.
But now at the other end of his own career, Cole can see Morrison replicating his earlier successes with England - starting in Brazil next summer.
"He's 20 now," said Cole. "That's young but I think Theo [Walcott] went at 17 and I was 19.
"He's got a chance. I think any English players will be thinking they have a chance. Certainly the young ones because Roy (Hodgson) has come out and said he's going to go with youth over experience.
"He has been outstanding when he's played and there's always a [young] player isn't there? It was Ross Barkley at the start of the season.
"You look at the players - off the top of my head I'm thinking David Bentley, Jermaine Pennant, Danny Cadamarteri, Michael Owen. You always fix on a player and he's the one. That's how I've found it in my career."
Allardyce had previously said that Morrison's next contract would have to be dealt with carefully to avoid any hike in his pay packet leading to a return to his previous off-field issues.
But Cole believes he has seen enough from the player to suggest he can deal with anything that comes his way and.
And Cole is certain that Morrison is driven by the idea of success rather than money.
"You get paid what the going rate is for these young kids," he said.
"And for the club to grab the best young players in the world - it's an economy, isn't it? To pay for the best young kids they're going to earn money. I don't begrudge anyone any money.
"For me, even now, the money is not what drives me, it never has. And the thing I've found is that all the players who've managed to get to the top of the game - to play for your country and things like that - the drive's got to come from within.
"Ravel has got all of what you need, including attitude. He's played 40-50 games in the Championship and he's a proper player now. If you're motivated by money I think it can only take you so far.
"His attitude is spot-on. He loves football, which I look for in a player the most. He loves his football. You can see the joy when he's playing. You can see him listening when you're talking to him. He's got a great attitude and that's why he is where he is."