Arsene Wenger v Jose Mourinho in quotes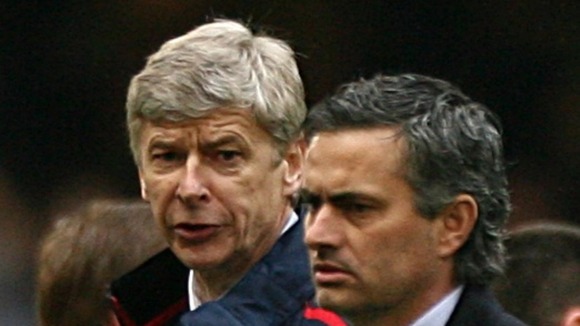 Chelsea travel to Arsenal this week with Arsene Wenger and Jose Mourinho renewing a rivalry which has produced some strong words from both managers.
Here's a reminder of the pair's public feuding dating all the way back to 2005.
FEBRUARY, 2005
Wenger defends his decision to field an all foreign squad against Crystal Palace by pointing out that Chelsea are less successful than Arsenal:
"Take what Arsenal and Chelsea have won in the past eight years. I go with reality, with the football we play and the challenge we have ahead. I don't see especially that Chelsea play more English players than we do. Who have they produced, homegrown? Just one, John Terry."
AUGUST, 2005
Wenger claims Mourinho's negative tactics are putting football in danger:
"I know we live in a world where we have only winners and losers, but once a sport encourages teams who refuse to take the initiative, the sport is in danger."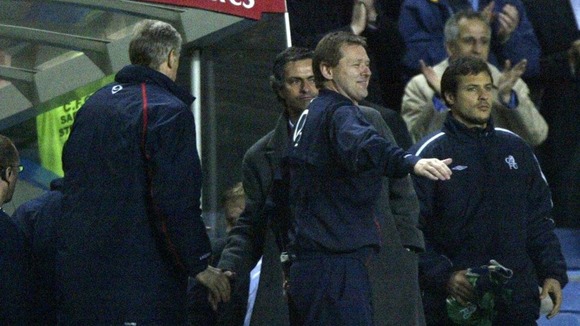 OCTOBER, 2005
Mourinho grows tired of Wenger continually speaking about Chelsea's high expenditure:
"I think he is one of these people who is a voyeur. He likes to watch other people. There are some guys who, when they are at home, have a big telescope to see what happens in other families. He speaks, speaks, speaks about Chelsea."
NOVEMBER, 2005
Wenger threatens to take legal action against Mourinho for calling him a voyeur:
"He's out of order, disconnected with reality and disrespectful. When you give success to stupid people, it makes them more stupid sometimes."
Mourinho defends his strong worded attack on Wenger, claiming to have a huge dossier about his quotes on Chelsea:
"At Stamford Bridge, we have a file of quotes from Mr Wenger about Chelsea football club in the last 12 months - it is not a file of five pages. It is a file of 120 pages so we have a very strong reaction. My objective is that it is enough."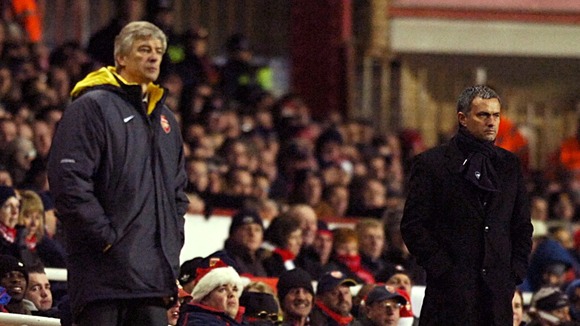 APRIL, 2007
On the eve of the Chelsea's 2007 League Cup final win over Arsenal (when three players were sent off, see below) Le Professor has a sly dig at Mourinho:
"If you would like to compare every manager you give each one the same amount of resources and say: 'you have that for five years'. After five years you see who has done the most."
NOVEMBER, 2007
Jose points the finger at Arsenal's policy under Wenger in his new book:
"Unlike Arsenal, we sought success and tried to build it through a concept of the game using English players."
APRIL, 2008
Seven months after leaving Chelsea, Mourinho can't resist taking a swipe at his former Premier League rival:
"The English like statistics a lot. Do they know that Arsene Wenger has only 50 per cent of wins in the English league?"
NOVEMBER, 2010
Arsene Wenger accuses Real Madrid boss Jose Mourinho of damaging football's image for instructing Xabi Alonso and Sergio Ramos to get deliberately cautions during a Champions League tie:
"You never say it doesn't cross your mind but when you see how it looks on television it is the best demonstration to think: "Never do that again". It looks, frankly, horrible. It's a pity to see that from a big club."
Mourinho responds to Wenger's comments with a stinging attack on Arsenal's lack of success:
"Instead of speaking about Real Madrid, Mr Wenger should speak about Arsenal and explain how he lost 2-0 against a team in the Champions League for the first time [Braga]. The history about the young kids is getting old now. Sagna, Clichy, Walcott, Fabregas, Song, Nasri, Van Persie, Arshavin are not kids. They are all top players."