Laudrup fired up by south Wales derby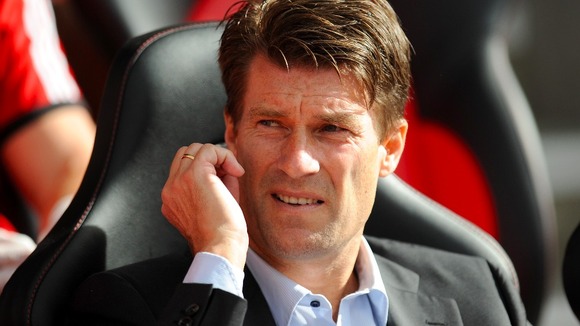 Swansea boss Michael Laudrup admits the south Wales derby does not have the prestige of El Clasico, but that does not mean the Dane cannot appreciate the game's importance.
The very presence of Laudrup in the Swansea dugout at Cardiff City Stadium is a sign of just how far they and the Bluebirds have come over the last decade, with both rising from the lower reaches of the Football League pyramid to the top.
Laudrup's illustrious playing career saw him play in some of Europe's biggest derby clashes, including Barcelona v Real Madrid, Lazio v Roma and Juventus v Torino.
Sunday's 106th south Wales derby will be the first to take place in the top flight of English football, and the fixture lacks the global appeal of the Spanish clashes which Laudrup graced so brilliantly.
But the Swans boss said: "Of course you can appreciate it, because it's not about how big it is on an international or world level.
"I think I can make an argument that Real Madrid-Barcelona is, worldwide, the most important game you can watch at the moment, but that doesn't change how you can feel about this game.
"Football is about emotions and feelings and for the fans of that club you can never say it is not the most important derby.
"That is the same wherever it is, it doesn't change because it is a derby and the fans from those two clubs have those feelings and those feelings don't change wherever you are in the world."
Laudrup has made it clear Swansea will stick to their passing principles in Sunday's game, and has backed his side to cope should Cardiff look to harrass them out of their rhythm.
But he expects the Bluebirds to be a threat from set-pieces as they showed thanks to Peter Whittingham's delivery and Fraizer Campbell's finishing in their early-season win over Manchester City.
"I still think we will play our way, like we do in any other game," he said.
"We analyse the opponent, see how they play, where they are strong and where we can hurt them. That's what we do with all the opponents.
"That's what we'll do with Cardiff.
"It's possible they will try and press us high but we have played other teams before that we knew would probably try to press us high.
"If that happens we think 'what can we do?' and if they sit deep we think the same.
"What we do know is that Cardiff, like the team we played last Sunday (West Ham), and the team we play next in the league, Stoke, concentrate on set-pieces.
"Most teams do, some do it more than others, but I think we have improved in this area."